Massachusetts Pro-Life Group Riled by State-Funded Sex Education Website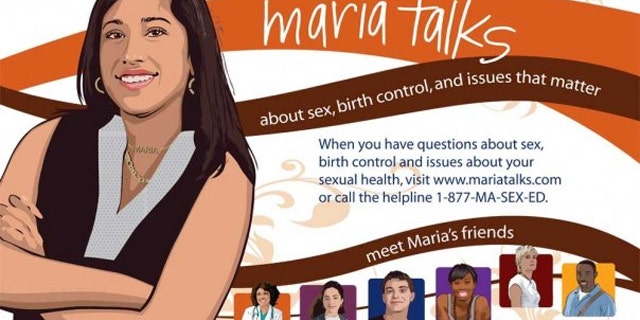 A state-funded sex education website that claims getting an abortion is "much easier than it sounds" has angered a Bay State pro-life organization that says the site glorifies the controversial procedure.
Linda Thayer, a former Boston teacher and vice president of educational affairs for the Massachusetts Citizens for Life, told Fox News that the website, MariaTalks.com is a misuse of state funds and claimed it downplayed the medical procedure. She also claimed the website provided a "road map" for teenagers to get an abortion without informing their parents.
"Any minor girl who reads this website, whether she's pregnant or not, basically gets a road map on how to get an abortion without telling her parents," Thayer said on Wednesday. "They're really setting these girls up if they follow through with an abortion."
MariaTalks.com also downplays the potential physical complications associated with abortions, claiming that the website's characterization of abortions as "safe and effective" to be a "deceptive sleight of hand," Thayer said.
On the site, Maria informs readers that she was "overwhelmed" by different birth control options when she and her boyfriend began having sex.
"I did some Internet research, but I got overwhelmed with all the different birth control options (the ring? the cap? the patch?.. what's the difference?!)," the site reads. "I decided to talk to my aunt – she's a doctor and knows a lot about this stuff – and she helped me figure out what was best for me."
Abortion, meanwhile, is characterized as a "pretty hot topic" that some believe is wrong while others believe it can be a "good and responsible" choice.
"While everyone is entitled to their opinion, it can sometimes be hard to get truthful information because some people may try to get you to think the same way they do," the website reads. "What's important is how you feel about it. One of my friends who had an abortion told me that it was a difficult decision to make, but she felt that it was the best choice she could make for herself, her boyfriend, her family, and her future."
The website also claims that abortions are "more common than you might think," with roughly 4 out of every 10 U.S. women having at least one abortion by the time they reach age 40.
"My Aunt Lucia says that abortions are safe and effective, though some people may experience temporary discomfort," Maria says on the website. "She also says that early abortions have less risk than those done later in the pregnancy."
The website has been produced since 2008 by the AIDS Action Committee of Massachusetts with $100,000 in annual grants from the state Department of Public Health. Those funds also cover a sex-crisis hotline and other outreach efforts, according to the Boston Herald.
Calls by FoxNews.com to the AIDS Action Committee of Massachusetts were not immediately returned on Wednesday.
Meanwhile, Rebecca Haag, chief of the AIDS Action Committee of Massachusetts, defended the website in a statement issued to the Boston Herald.
"We feel strongly that the issues that are addressed through the Maria Talks Web site are essential in safeguarding the general, sexual health of youth by informing them of their risk for unintended pregnancies, HIV and other sexually transmitted infections," Haag's statement read.
The Massachusetts Department of Health also released a statement defending the site.
"The website strives to provide accurate, complete, and non-judgmental information about all aspects of sexual health, including sex, abstinence, birth control, pregnancy, pregnancy options, sexually transmitted infections, sexual violence, and information for gay, lesbian, and questioning youth," the statement read. "The website is intended to be accessible to teens through the site's narrator, 18-year old Maria, who provides accurate information in a youth-friendly way."
Click here for more on this report from the Boston Herald.