Massachusetts police recover mysterious package containing suspected drugs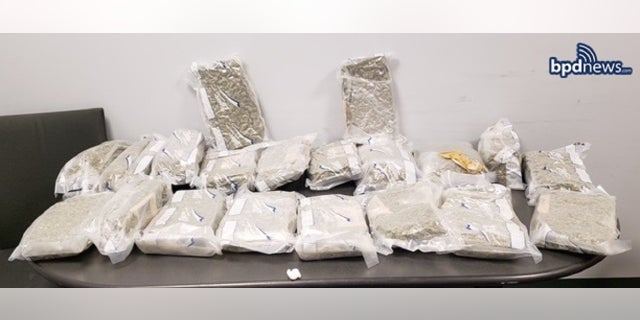 NEWYou can now listen to Fox News articles!
Someone's delivery may have just gone up in smoke.
Police officers in Dorchester, Massachusetts, this week successfully recovered a package of what authorities think could be 20 bags of marijuana, the Boston Globe reported.
The Boston Police Department shared a snap of the find on social media.
"At about 6:45 PM on Tuesday, September 11, 2018, officers assigned to District C-11 (Dorchester) responded to the area of 55 Morrissey Boulevard in Dorchester to recover a package," police said in a Wednesday release.
Authorities added, "Officers were able to locate the package which contained twenty bags of a green leafy substance believed to be Marijuana. The package and its contents were forwarded to the State Lab for analysis."
MARRIED 'CRISS-CROSS' BANDIT SUSPECTS ARRESTED IN ARIZONA BANK HEISTS
The Boston Globe reported that several Beasley Media Group radio stations are based at the building.
Authorities told the outlet that the package's listed recipient isn't a Beasley employee and doesn't work there.
Beasley Media Group told the newspaper in part that it "called the police when it discovered the contents of the package that was delivered to the stations via UPS. We do not know who the contraband was meant for."
The company said the Boston Police Department's Drug Task Force took the package away.
The paper notes that marijuana sales must be carried out by licensed dispensaries in the state.