Massachusetts police officer fired after 'fabricating' shooting incident, officials say
NEWYou can now listen to Fox News articles!
Authorities in Massachusetts announced Thursday that a police officer has been fired after fabricating a story that shots were fired at his cruiser before the vehicle crashed and caught fire.
Millis Police Sergeant William Dwyer told reporters at a press conference that ballistics testing determined the only bullets found at the scene belonged to the officer.
"I'm very upset and don't know how to feel right now," Dwyer told reporters.
Dwyer said criminal charges are expected against the part-time officer, who has not yet been identified. Dwyer added the officer was a dispatcher and going to be a full time officer soon. There was no indication of the officer's motive in reporting the shooting.
The incident happened around 3 p.m. Wednesday in the town of Millis, Mass., when the officer claimed the cruiser was struck by gunfire before crashing and catching on fire, Massachusetts State Police said in a news release Wednesday.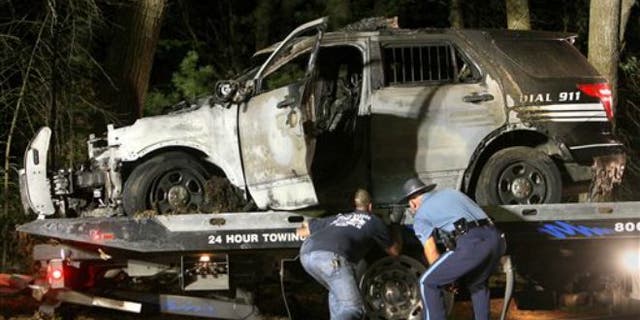 The officer initially described a suspect who fled the scene after the shooting as a white male driving a dark colored, possibly maroon pickup truck, police said.
State police dispatched the agency's Air Wing to the scene, as well as detectives and ballistic units, in a search that spanned nearby towns.
Schools in Millis were closed Thursday as a result of the incident.
Dwyer said his reason for announcing the fabricated story on Thursday was to let area residents know there was not a gunman on the loose.