Mass. police officer will face charges after allegedly lying about shooting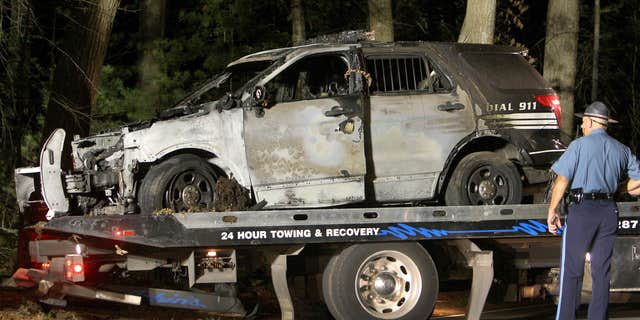 NEWYou can now listen to Fox News articles!
A part-time Massachusetts police officer accused of concocting a story about a shootout with a gunman before his cruiser crashed into a tree and caught fire will face charges, authorities confirmed on Friday.
Bryan Johnson will be charged with misleading a criminal investigation, communicating false information to emergency services, malicious destruction of property and unlawful discharge of a firearm, Mills police Sgt. William Dwyer said.
Johnson, 24, claimed a man in a pickup truck fired at his police cruiser Wednesday afternoon, forcing him to crash into a tree. Johnson said his SUV caught on fire, and he climbed out of the vehicle and shot back at the gunman.
Dwyer said the only ballistics evidence recovered was from shots fired by the officer into his own cruiser. The possible motivations for the fabrications are unclear. The hoax prompted a search by dozens of officers, a shelter-in-place order for residents, and a school lockdown.
Dwyer said Johnson is on paid administrative leave, and will be fired.
Johnson was promoted from dispatcher to part-time officer last year and was scheduled to start training as a full-time officer for the town of about 8,000 residents on the Charles River.
Dwyer, who is filling in as interim chief, called Johnson a "good friend of mine and a good person."
"I thought he was an excellent dispatcher — well-spoken, physically fit, a great addition to our police department," Dwyer said. "So I know I speak for the entire department and the police community when I say we were shocked by what happened."
The Associated Press contributed to this report.