Maryland bus crash: At least 30 injured, mostly children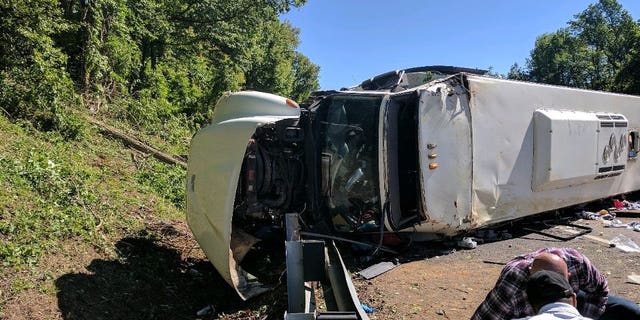 At least 30 people were hurt, two critically, after a charter bus filled with children overturned in Havre de Grace, Md., on Monday, emergency workers said.
Some 26 of the injured were eighth-graders on a field trip to Washington, D.C.; the others were chaperones and the driver. The bus was heading south on I-95 near exit 89 before it crashed, Fox 45 reported.
Paramedics flew the two critical patients, one child and one adult, to nearby hospitals, and transported the others via ambulance. Afterwards, crews collected the children's backpacks and other personal items to return to their families.
A car that tried to pass wound up clipping the bus, forcing it to overturn, police said.
Photos and aerial video from the scene showed the bus on its side, on top of a guardrail, with debris scattered across the road. Crews worked to pull passengers from the back door of the bus, WJZ added.
FIRE DESTROYS HOME IN AKRON, OHIO
Most of the injuries were cuts, bruises and scrapes, with some possible broken bones, medics said.
State troopers rushed to the scene joining fire and medical workers. In addition, Philadelphia police officers taking buses to Washington spotted the crash and stopped to help, Fox 45 added.
ATLANTA SEES FIRST RUSH HOUR SINCE I-85 OVERPASS REPAIRED
The crash forced crews to close southbound lanes while northbound traffic experienced significant delays.
Havre de Grace is about 40 miles northeast of Baltimore, along the Susquehanna River.
The Associated Press contributed to this report.