Martha MacCallum accepts award from SoldierSocks
NEWYou can now listen to Fox News articles!
Fox News Channel has a unique and very supportive relationship with our nation's military. We are proud of it. It's part of who we are. Because of that, although our shows are packed every day and segments often need to be cut in order to make room for news, we have a way of finding room when it comes to being a voice for those who fight every day to protect our nation and our freedom.
I was given that opportunity when SoldierSocks reached out to me. Chris Meek started the ball rolling in his garage when Sergeant Major Luke Converse told him our troops in Iraq and Afghanistan needed his help. They needed every day stuff, socks, shampoo, toothpaste. Chris took it upon himself to step up and started reaching out to others to help, neighbors, friends; everyone was enlisted to pitch in with money, supplies or just an extra set of hands. Over time they sent 60,000 pounds of supplies that became a very welcome sight to our Soldiers and Marines in need.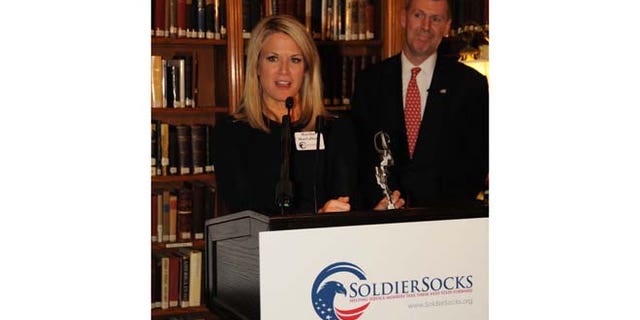 But then SoldierSocks found another way to serve. It was the development of the revolutionary Ekso bionic suit, a robotic step- in exoskeleton of sorts – straight out of Iron Man or the Terminator – that was nothing short of miraculous. It gave our wheelchair bound vets an opportunity to get up. To stand. To look people in the eye and to begin to get on with life. To think about not what was no longer possible, but what was now possible.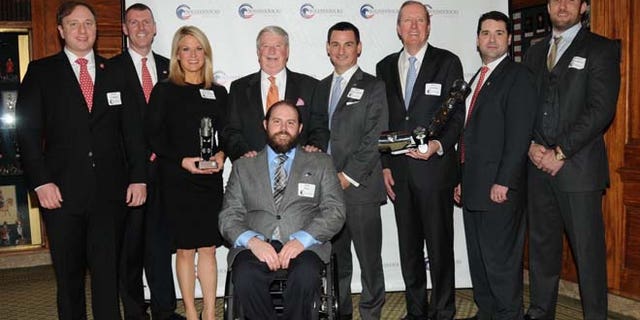 When we had combat veteran and quadriplegic Dan Rose on our show and he told his story, of how the Ekso suit gave him a new lease on life, our viewers responded so positively that the SoldierSocks website shut down… twice. Thanks to the generosity of Fox viewers, two more Ekso suits (at $150,000 each) were purchased and presented to veterans who also wanted to get up again and walk.
This month, SoldierSocks honored me with their first "Commitment to Service" award. I am honored, but it is really our viewers who deserve the award and so I accepted it on their behalf. I am proud to be part of a news channel that our military can count on for support, and I am grateful to SoldierSocks for all they do.