Marine who survived 2015 shooting has 'mixed feelings' about his Purple Heart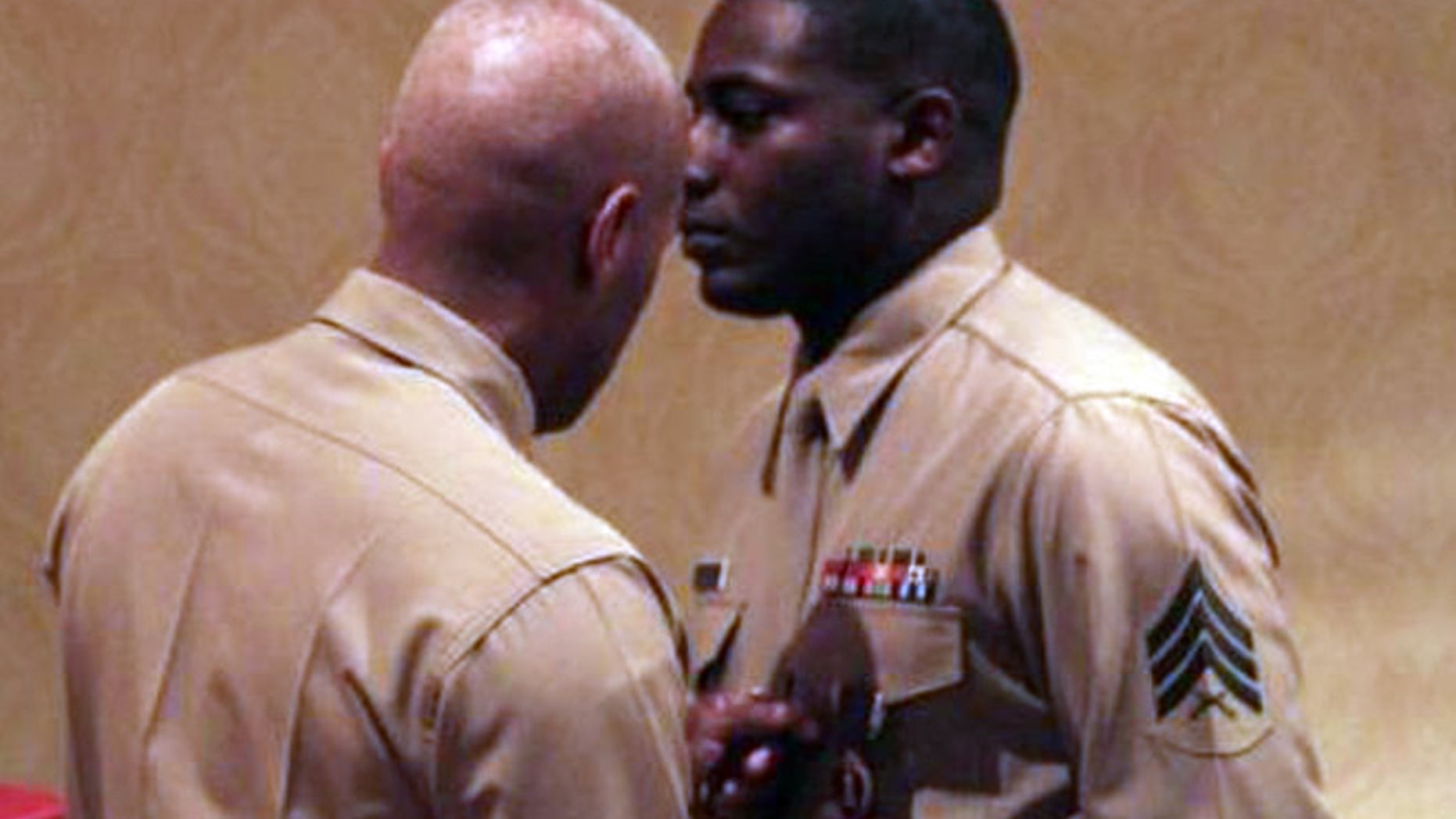 The Marine who suffered a gunshot wound to the leg during last summer's terror attack on military installments in Tennessee -- including his recruitment center -- said he was humbled to be awarded a Purple Heart Tuesday, but deflected questions about the military's policy of recruiters being unarmed at these facilities.
"I'll do whatever my chain of command tells me to do," Sgt. DeMonte Cheeley told The Marine Corps Times. "If they say, 'You don't need to arm yourselves,' I'll just act accordingly."
The July 16 shooting rampage raised a national debate on whether U.S. service members should be armed at these military facilities. There is little secret that these centers are high-profile and vulnerable to terror strikes. The debate only grew when a privately-owned pistol was recovered at a nearby reserve center, where the second shooting that day occurred. Authorities believed the gun belonged to a fallen Marine.
Cheeley was the first Marine wounded during the attack at the Armed Forces Career Center where he worked as a recruiter. He suffered a gunshot wound to the leg at the hands of Muhammed Youssef Abdulazeez. Abdulazeez was later shot and killed by police.
The shootings took place minutes apart, with Abdulazeez stopping his car and spraying dozens of bullets first at Cheeley's recruiting center, then driving to a Navy-Marine training center 7 miles away. The attacks were over within 30 minutes.
Cheeley recalled the chaotic scene, when he heard the first gunshots and then, sitting in the career center unsure that he had been hit.
He told FoxNews.com that when the first gunshot rang out, he thought it was a firecracker. But he determined the sound was gunshots when the exterior glass at the center began to shatter.
"I didn't believe it when I got to the hospital because the doctors couldn't see anything on X-rays," he told The Marine Corps Times. "They only saw an entrance and exit wound. Not until I got home and I saw the PT shorts I was wearing had a hole in the back right where the wound was, that's when I believed them. I'm like: OK, I guess it really did happen."
The five troops were killed at the nearby training center. Gunnery Sgt. Thomas Sullivan; Staff Sgt. David Wyatt; Sgt. Carson A. Holmquist; Lance Cpl. Squire D. "Skip" Wells and Petty Officer 2nd Class Randall Smith all died that day. They are in line to receive a Purple Heart at a later date, a Marine official told Military.com.
The Purple Heart is one of the most respected awards in the U.S. military and it is awarded, according to WRCBTV.com, to those injured or killed while serving. In a majority of cases, the award is earned fighting in a combat zone. The FBI and the Navy Criminal Investigative Service, however, determined that the Chattanooga attack was inspired by a foreign terror group.
"What I've always been taught is the Purple Heart is a combat award, being deployed overseas and for me to receive it in Chattanooga, Tennessee… I kind of have mixed feelings about it," Cheeley, who served in Afghanistan in 2011, told the station. He said he is honored to receive the award, but he does not "want to take away from the fallen five."
Though rare, the military has in the past given out Purple Hearts for attacks on U.S. soil. In Feb. 6, 2015, the Army approved awarding the Purple Heart to soldiers wounded in the 2009 attack on Fort Hood in Texas after pressure from Congress and victims' families.
Cheeley told The Marine Corps Times: "I still have a job; I'm still a Marine Corps recruiter, and who knows, maybe one day I might recruit the next Gunnery Sgt. Sullivan or Staff Sgt. Wyatt or the other three fallen."