Man's suicide unearths decades-old sex abuse revelations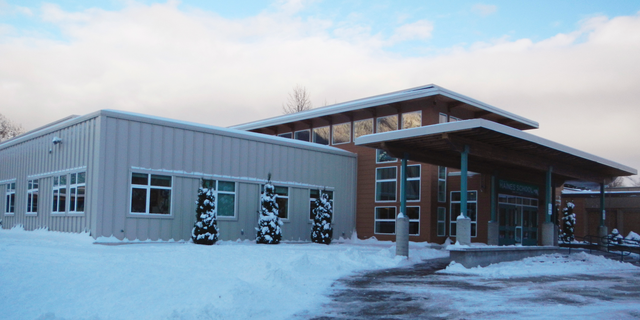 NEWYou can now listen to Fox News articles!
JUNEAU, Alaska – Karl Ward is long dead, but some say the once-revered school superintendent in a small Alaska fishing town was not the benevolent educator worthy of having the high school gym named in his honor.
A cellphone video made by a man before he died by suicide last month has given voice to at least five other men, all of whom say they were sexually abused decades ago by Ward, confirming publicly whispers that had long quietly existed.
Rick Martin graphically explained on the video what he said Ward had done to him, and now his widow Rene, who serves as the principal in Haines, is speaking out.
There is no legal recourse, all concede, but she hopes to spark a conversation about mental health and abuse.
The guilt "needs to only live with that one man," she said.
Ward worked in the school district for more than 20 years, including as superintendent in the 1960s and '70s, according to the Chilkat Valley News; he died in 1997. His widow is in an assisted living facility.
The facility's nurse administrator, Stephanie Pattison, said the woman asked her to tell people that she is "in shock and she's in mourning for the life she thought she had."
Police Chief Heath Scott said he has no reason to doubt the allegations, but there's nothing to investigate, nor reason to suspect any sort of cover-up. He confirmed that Martin made the abuse claims on the video.
Haines, a fishing and tourist community of about 1,740, is located about 80 air miles (130 kilometers) northwest of Juneau, in southeast Alaska.
The men who have spoken since Martin's death about unwanted touching or advances by Ward while they were teenagers spoke to the Chilkat Valley News' Kyle Clayton, who went through yearbooks and called dozens of people to locate alleged victims.
"I had to find everybody. No one came forward to me," Clayton said.
Once one of the men, Craig Loomis, spoke to Clayton about his own alleged experience with Ward, others began to speak.
"It kind of started falling over like dominoes," Clayton said. The Associated Press typically doesn't name victims of sexual abuse but the men have publicly come forward to discuss their allegations.
Loomis told the newspaper that Ward invited students to his house and offered them alcohol. On one visit, Ward "inappropriately touched" him, Loomis said.
"I should have said something 30 or 40 years ago," Loomis said. "Whoever's been suffering, we don't know what their life would have been if we would have said something."
Some residents told the paper they had heard allegations about Ward growing up.
Others saw Ward as a stand-up guy. One former principal, Alan Heinrich, would not comment on the reports.
Robert Brouillette said he told a teacher that Ward touched him but the teacher did nothing, the newspaper reported.
Martin said her husband once told his father that Ward tried to touch him, but his father said they were Native, and there was nothing they could do about it, she told KHNS radio.
Rick Martin later worked at the school as a janitor and told his wife it was tough to see a sign celebrating Ward outside the gym, the station reported.
Borough Manager Debra Schnabel said some issues weren't talked about 30 years ago, the way they have been during the current #MeToo movement.
"I think a lot of people in the community, we're not beating ourselves up for the culture that we lived in," she said. "I think that we're kind of pleased with the fact that we can, at this point in our lives, bring it to the fore and use the knowledge that we have to try to make things better for everybody."
Many residents seem relieved, Clayton said.
Local officials are trying to steer residents in need to available counseling services. Alaska has a high rate of sexual assault and abuse, and authorities said the recent news stories may have dredged up for some residents painful memories of past abuse.
The school board issued a public apology, saying the district must learn from this "heartbreaking" situation. "We can no longer accept a culture of silence about sexual abuse," the statement says.
The plaque outside the gym bearing Ward's name has been removed, though a decision remained on whether to rename the facility. The borough assembly, meanwhile, has asked Schnabel to draft a policy for the naming of facilities.
Martin doesn't want anyone to make the same choice that her husband did.
"Where I hope this leads is for us to have honest conversations about mental health and abuse and how we need to support people and be honest and face truths, even if they're hard and ugly," she said.