Man sentenced to life for NJ schoolyard killings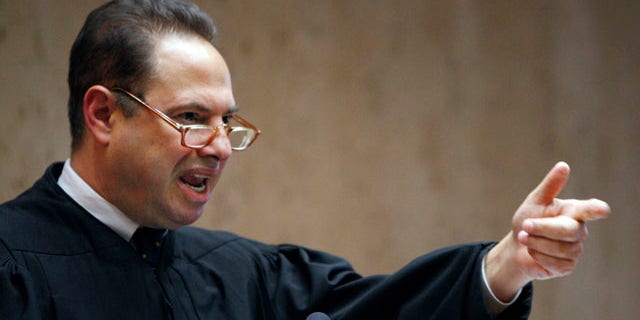 NEWARK, N.J. – A man who admitted pulling the trigger in the execution-style killings of three college students in a schoolyard was sentenced Thursday to three consecutive life terms in a case that jolted New Jersey's largest city into dealing with its crime problem.
Melvin Jovel, 21, pleaded guilty to murder, attempted murder and weapons charges days before his trial was to begin in September.
Prosecutors said Jovel and five other young men lined up Iofemi Hightower and Dashon Harvey, both 20, and 18-year-old Terrance Aeriel, against a schoolyard wall in Newark and shot each of them in the back of the head on a summer night in 2007.
A fourth victim survived and testified at the first trial in the case that she was sexually assaulted, slashed with a machete and shot in the head.
She also spoke in court Thursday, thanking Jovel for "allowing me to get closer to Christ" before chastising him for refusing to look at her as she spoke.
"You and your homies had a plan for me, you wanted me dead — but I'm still here," said the woman, who is not being identified by The Associated Press because of the sexual assault charges. "Have fun living your fancy life in jail," she added.
Jovel, wearing dark green prison scrubs and translation headphones, stared straight ahead throughout the proceedings, making only a brief statement in Spanish before his sentencing.
"The only thing I have to say is the person who was sentenced had nothing to do with it," Jovel said, an apparent reference to co-defendant Rodolfo Godinez, who was sentenced in July to three consecutive life sentences for the killings.
Four other defendants are in jail awaiting trial.
Prosecutors said Godinez, a legal immigrant from Nicaragua, Jovel, an illegal Honduran immigrant, and several of the defendants were engaging in an initiation ritual for members of the MS-13 street gang. The men did not know the victims, prosecutors said, but Jovel and at least two of the other suspects had lived in an apartment complex across the street from the scene of the slayings.
The four victims, who attended or planned to attend Delaware State University, were hanging out listening to music behind Newark's Mount Vernon school on the night of Aug. 4, 2007, when they were approached by the suspects, who robbed them and forced them to lie on the ground before shooting them, according to prosecutors.
The publicity surrounding the killings focused national attention on violent crime in New Jersey's largest city and jump-started anti-crime initiatives. The killings also led state officials to grant police the authority to refer violent crime suspects' names to immigration authorities if they are suspected of being in the country illegally.
Several of the victims' family members spoke at the sentencing, including Dashon Harvey's father, James.
"My son was a beacon of light in our society, in which beacons of light are hard to find," he said. "He made me proud to be his dad, in a society without a lot of fathers."
The families expressed relief at Jovel's sentencing, but Essex County Assistant Prosecutor Thomas McTigue said it was little comfort compared to "the pain and enormity of the cases."
"I think it bespeaks the community's growing impatience with the violence that permeates everyday life, and the casual way sometimes life is taken in this county without provocation, and without any seeming good reason," McTigue said.
State Superior Court Judge Michael Ravin gave Jovel three consecutive life sentences plus 20 years, which in New Jersey, is an aggregate sentence of about 245 years.
Jovel would have to serve at least 85 percent of that before becoming eligible for parole.