Man plows car into group of people outside Indiana bar, sought by police
Authorities in Indiana are searching for a driver who plowed into a group of people outside a bar early Saturday in a dramatic moment captured on video.
The Muncie Police Department told FOX59 they're looking for 29-year-old Keith Childress after some type of disturbance that escalated.
"It was definitely intentional," witness Joe Hardwick told the television station.
In video released by police, tires can be heard squealing as people scream in the background and the Dodge Charger slams into the crowd. People can also been seen being thrown on the hood of the car and knocked on the ground.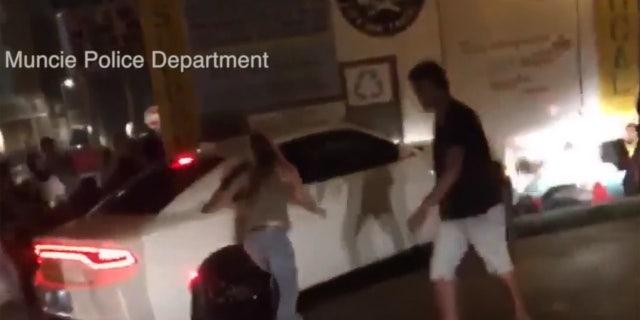 "[It] got out of hand way too quick," Det. Kyle Monroe with the Muncie Police Department told FOX59. "He was obviously backing out and could've left the parking lot but decided to stop and turn left 45 degrees or so into a group."
COPS ID MOM WHO THEY SAY BROUGHT BABY ON HIGH-SPEED CHASE
Hardwick said he was thrown into a wall by the vehicle, but was "very thankful" to walk away without any serious injuries.
Police found the Charger damaged and abandoned on a nearby street. Childress could face multiple charges, including battery, leaving the scene of an accident and criminal recklessness, according to police.