Man in custody after barricading himself in 'homemade' armored truck near Hoover Dam, reportedly with notes for 'Mr. President'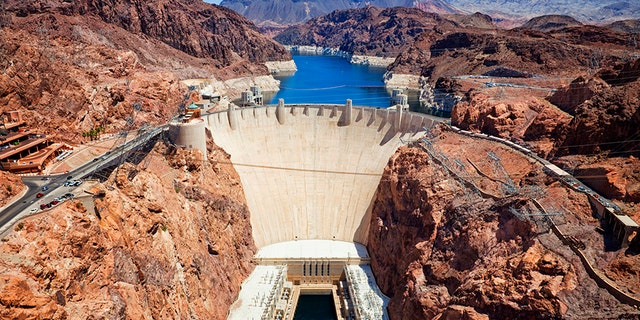 A man was taken into custody Friday after he barricaded himself inside a "homemade" armored vehicle near the Hoover Dam on U.S. Highway 93, investigators said.
Officials received calls around 11:54 a.m. local time about a white man who had stopped on the highway near the Mike O'Callaghan-Pat Tillman Memorial Bridge, which heads into Arizona, Jason Buratczuk from the Nevada Highway Patrol said at a news conference.
Officials said the unidentified man was holed up in what looked to be a "homemade" armored vehicle and he appeared to have some kind of "long gun rifle" and signage. Authorities stopped traffic in both directions, seeing as this was near a tourist hotspot.
Pictures emerged of notes taped to the window of the vehicle saying, "Mr. President release the report," KLAS reported. It was unclear what the notes may have meant.
Some troopers were able to make contact with the man in the truck but Buratczuk could not confirm what was said during the exchange. He also could not confirm definitively that the man had a gun.
Once the area was secured, the man started to drive southbound into Arizona where Arizona DPS used spike strips but the truck continued on. The driver, according to Buratczuk, turned around after seeing a semi-truck was blocking the road ahead. He turned into desert terrain where he was then taken into custody "without incident."
Buratczuck acknowledged that the suspect did write signs but he could not confirm what was on them. "I don't know what those signs were saying, I don't know what type of message was on the signs, whether this person was angry at the government or angry at whatever." He said that it was a possibility that the man had "mental issues."
NHP was first on the scene. Other agencies including Arizona DPS, Boulder City Police and Las Vegas Metropolitan Police also were on site.