Man busted in theft of missing skateboarding English bulldog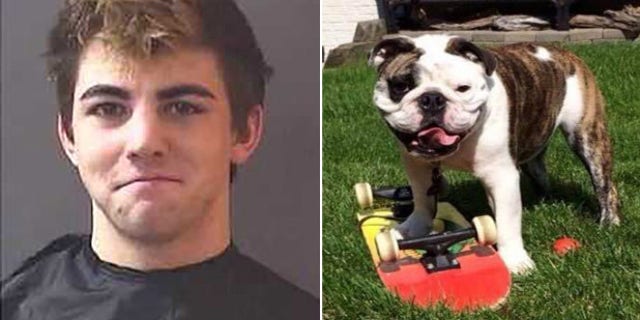 NEWYou can now listen to Fox News articles!
An Indiana man was collared for the theft of a skateboarding English bulldog – but authorities were still searching for the beloved stunt dog.
Police in Carmel announced Monday that Reid Allen Albrecht, 22, was arrested last week on two counts of theft for stealing the pooch, named Gus, from Hazel Forest Drive in an Indianapolis suburb last fall.
The dog – whose owners were offering a $4,000 reward for his safe return – disappeared on Oct. 6. Albrecht, of Carmel, was later linked to the theft of the bulldog and, while he was already in custody at the Hamilton County Jail, was charged, police said.
But Gus' distraught owners say they are no closer to their missing dog.
"While we are encouraged that an arrest was made, unfortunately we are uncertain where Gus is," a message posted Monday on a Facebook page dedicated to finding the dog. "As we have more information that we can share we will do so."
The Facebook page also features videos of Gus skateboarding and recent local newscasts of the family's frantic hunt to get him back.
Jeremy Kiger, whose family owned the dog, said he's grateful for all the help from the community.