Man captured on video attacking homeless woman, 78, on subway was being threatened, fiancée says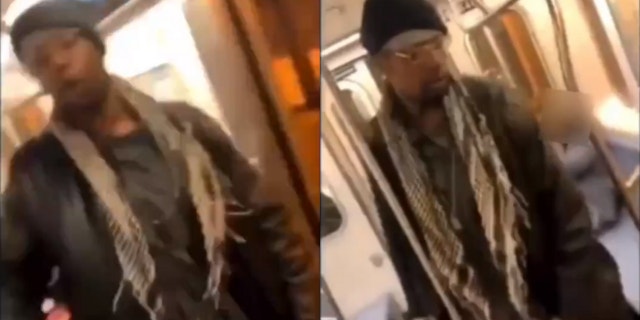 NEWYou can now listen to Fox News articles!
The fiancée of a man caught on cellphone video pummeling a homeless woman on a New York City subway reportedly said the 78-year-old was menacing the couple and threatened to stab them.
Marc Gomez was arrested Saturday on assault and harassment charges after he allegedly attacked a woman on a train in the Bronx on March 10. Video captured Gomez appearing to repeatedly kick the 78-year-old woman before exiting the train, sparking outrage among social media users.
New York City police said the attack was unprovoked, but Gomez's fiancee Alicia Cox, 44, told the New York Daily News that the 36-year-old had snapped when the woman told her, Gomez and their daughter that she was going to stab them and flashed a shiny object that Cox believed could have been a knife. She said the March 10 incident began when she told her daughter to sit next to the woman.
"As soon as my daughter lays down, the lady goes, 'Oh, what are you doing?' So Marc goes to her and says, 'Excuse me?'" Cox told the New York Daily News. "He turns to her and says, 'Ma'am I'm not bothering you, I'm not trying to do anything to you. We're just trying to get home. My daughter is trying to sleep.' And she goes, 'Oh, I don't care, I'll punch her in the head.'"
SUSPECT HELD IN NYC SUBWAY ATTACK ON ELDERLY WOMAN THAT WAS CAPTURED ON VIDEO
Cox said the woman continued to threaten them even after they moved to a different seat.
"She goes, 'I'll stab you, I'll kill you.' And he [Gomez] goes, 'Who you talking to?' Because there's nobody there, nobody's over there. First of all, I'm getting upset, and he [Gomez] sees me getting upset. So he says, 'Babe, calm down,'" Cox recalled.
Cox said the woman threatened to stab them again.
"When she threatened to stab all of us once again, it's like he [Gomez] snapped because he sensed us right behind him and he snapped. He's a real loving guy. He's a sweetheart," Cox said of Gomez. "It's just that we both agree that he made a bad decision, went about it the wrong way."
CLICK HERE TO GET THE FOX NEWS APP
The woman was treated for cuts, bleeding and swelling.
Gomez was arraigned Sunday and ordered to be held on $30,000 bond.