Man arrested after report of shooting on National Mall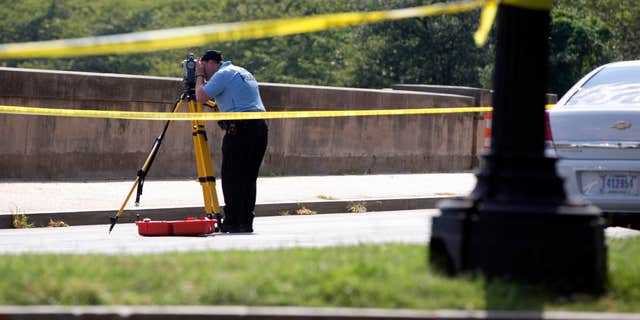 NEWYou can now listen to Fox News articles!
WASHINGTON – Someone fired a gun inside a car on the National Mall after witnesses reported a fight inside the vehicle Tuesday afternoon, but there was no indication anyone was injured, police said.
Police found the car later in the day in northwest Washington and arrested one man, U.S. Park Police said. Police were still looking for at least one other person who was riding in the car.
A gun was recovered on a highway near the Kennedy Center, about a mile away from where the shooting was reported, police said. Police also found a hat that apparently had been thrown from the car.
Police found broken glass at the shooting scene, which was at the intersection of 17th Street and Independence Avenue in southwest Washington, between the World War II Memorial and the Tidal Basin.
The intersection was marked off with police tape as investigators searched for clues, but no monuments or memorials were closed and there was never any danger to the public, said Sgt. Lelani Woods, a police spokeswoman.
Some tourists paused momentarily to gawk at the scene before continuing to their next stops on a hot, sunny afternoon.
Menna Machreth, 30, a Baptist mission coordinator who was visiting from her native Wales, said she's not accustomed to gun violence.
"It's a shock," said Machreth, who was on her way to the Martin Luther King Jr. Memorial. "It's sad that something so violent has happened so close to something that commemorates peace."