Man arrested after multi-car fire inside New York City mall parking garage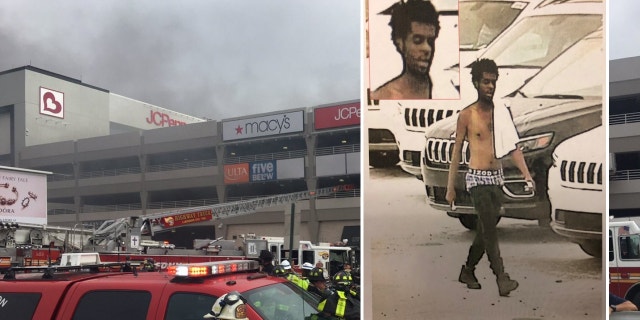 A man was arrested Monday night after a massive fire ripped through a New York City mall parking garage, sending thick black smoke into the air and injuring 21 people.
Avon Stephens, 23, was taken into custody on arson charges hours after the fire inside the four-story garage at Kings Plaza mall, officials said. Security cameras captured Stephens at the scene moments before multiple cars caught fire.
"I'm sorry. I apologize," Stephens was allegedly heard saying Monday as he was led to the police cruiser.
MORE THAN 200 FIREFIGHTERS RESPOND TO MULTI-CAR BLAZE INSIDE NEW YORK CITY MALL PARKING GARAGE
Mall security identified Stephens as a homeless man who slept in the garage and had been asked to leave the area, the New York Post reported. Stephens is expected to appear in court Tuesday.
The blaze at the garage in Brooklyn's Mill Basin neighborhood began around 9 a.m. Monday and quickly escalated. More than 250 firefighters worked to contain the fire for nearly three hours.
Photos and videos from the scene showed black smoke billowing into the air. The explosion-like noises were caused by tires bursting, FDNY Commissioner Daniel Nigro said.
"I heard, 'Boom! Boom! Boom!' " Mike Wright, who lives nearby the scene, told the New York Post. "The next thing I know, firetrucks are coming out. I look up, and there is this huge plume of smoke all over the neighborhood."
Nigro said 18 firefighters and three other people suffered injuries including smoke inhalation and heat exhaustion.
The garage stores about 120 vehicles for a nearby car dealership. Many of those vehicles were on fire when officials arrived.