Man arrested after dropping backpack at Boston Marathon finish line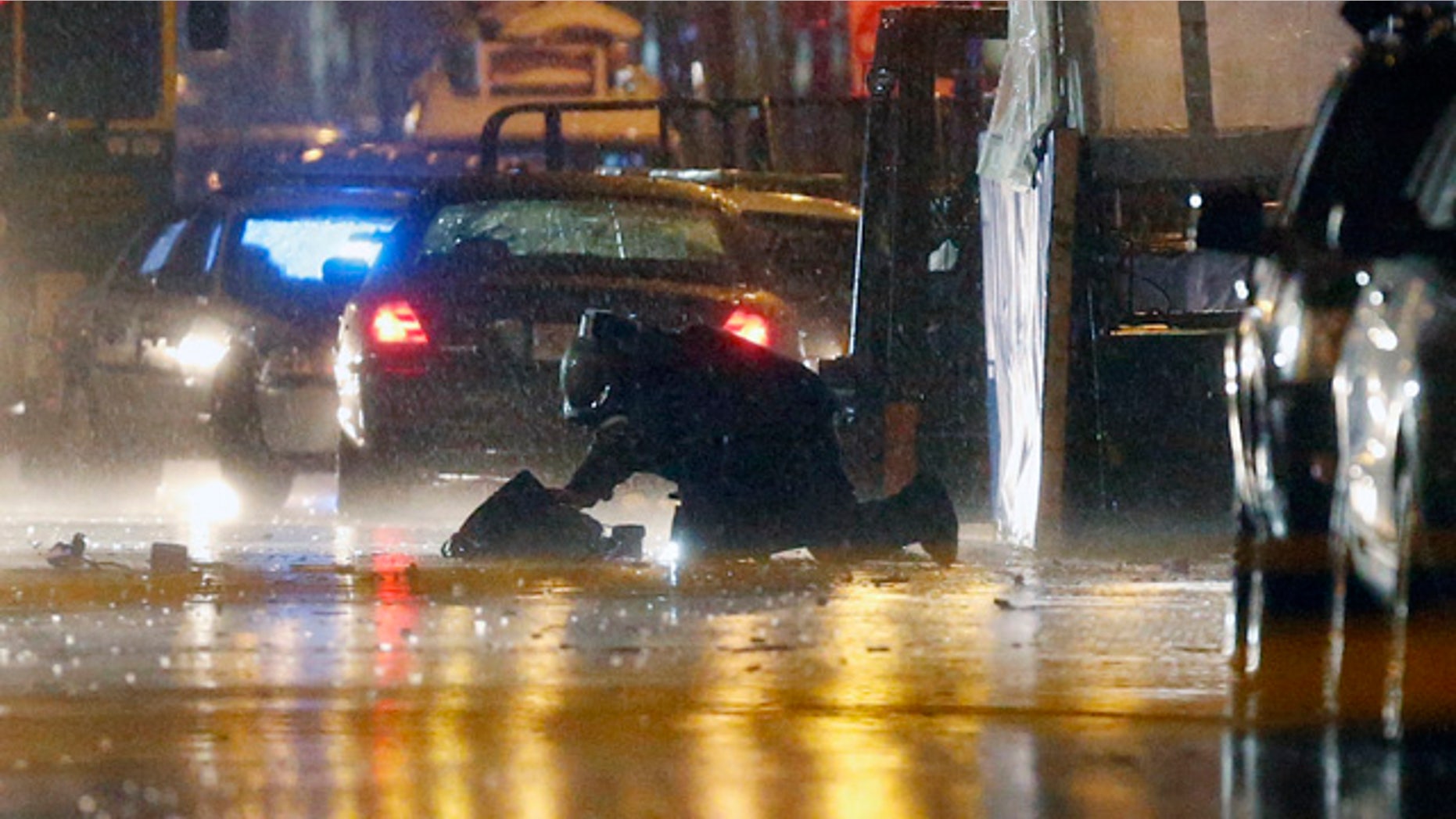 One man was arrested Tuesday after leaving a backpack near the Boston Marathon finish line on the one-year anniversary of a deadly bombing of the famous road race.
Boston Police issued an all-clear for an area of Boylston Street near the finish line shortly after 10:30 p.m. Tuesday after two backpacks were detonated by a bomb squad as a precautionary measure. MyFoxBoston.com reported that police found a rice cooker in one of the bags, but did not elaborate on the contents of the second bag. It was not clear who the second bag belonged to, nor was it clear how it was discovered.
Boston police did not identify the man in custody, but a spokesman said the suspect appeared to be "not of sound mind." Authorities said he would be charged with disorderly conduct, disturbing the peace and possession of a hoax device.
Police Superintendent Randall Halstead said the man was stopped by an officer who saw him acting suspiciously, including walking down the middle of a street barefoot in pouring rain. The man dropped the backpack and told the officer it contained a rice cooker, he said.
WBZ-TV photographers at the scene said they saw the man ran barefoot toward the finish line, carrying the backpack and screaming "Boston Strong!"
"All of a sudden you hear this guy go, 'Boston Strong, Boston Strong,'" a witness told WFXT-TV. "So I turned around, he's right next to me walking by, and there's two Boston cops standing on the corner ... so they turn around, they caught wind of it, and they go 'Hey, you come here.' And he goes 'Get away from me.' So another cop came around him, grabbed him, started struggling with him over the backpack, they pulled the bag off him and then they tackled him and took him down," he said.
The bomb scare came only hours after the city paused to mark the one-year anniversary of the 2013 bombing at the marathon's finish line, in which three people were killed and hundreds were wounded. Former Boston Mayor Tom Menino was joined by Vice President Joe Biden and Massachusetts Gov. Deval Patrick at the ceremony.
Authorities say two brothers planned and orchestrated the attack. Tamerlan Tsarnaev, 26, died following a shootout with police several days after the bombings. Dzhokhar Tsarnaev, 20, has pleaded not guilty to 30 federal charges and is awaiting trial. He faces the death penalty.
Click for more from MyFoxBoston.com