Man arrested after 2 dead, 4 injured when bus collides with car near intersection in Las Vegas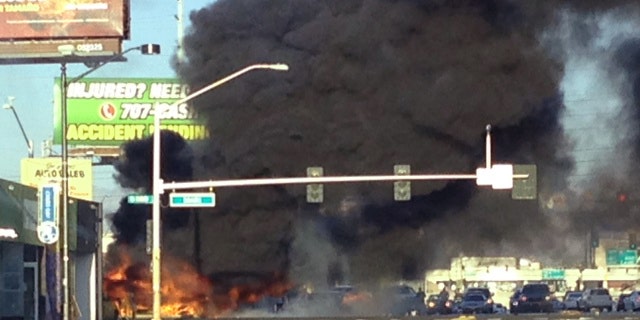 NEWYou can now listen to Fox News articles!
LAS VEGAS – A 24-year-old man was arrested Saturday on DUI charges following a crash at an intersection that left two people dead and four others injured after a fire tore through a minibus, police said.
Jonathan Donner, of Las Vegas, was charged with two counts of DUI resulting in death and three counts of DUI resulting in substantial bodily harm, the Las Vegas Metropolitan Police said in a statement.
The accident happened around 7 a.m. Saturday at the intersection of South Main Street and Charleston Boulevard, fire officials said.
A BMW driven by Donner sped through a red light at the intersection and hit the minibus, causing the minibus to overturn, police said. The BMW then spun around and hit another car that was stopped at the intersection, police said.
The minibus and the BMW caught fire, police said. Three of the people inside the minibus were able to get out, and they were taken to the University Medical Center, while two others in the minibus were pronounced dead at the scene, police said.
Several firefighters quickly extinguished the blaze, but the bus was a total loss.
The people who were killed are a 53-year-old man from Las Vegas and a 34-year-old man from Germany, said police, who withheld their names pending notification of family. Those injured are Stefanie Kloeppel, 30, of Germany; Brian Zerbee, 39, of Cedar Rapids, Iowa; and Sara Zerbee, 34, also of Cedar Rapids. Donner suffered moderate injuries, and the driver of the second car was not injured, police said.