A suspected gunman believed to have killed five people at a Washington state mall was arrested Saturday, according to authorities.
At a news conference, officials said they had not ruled out any possible motives for why 20-year-old Arcan Cetin allegedly shot four women and one man at the Cascade Mall in Burlington Friday evening.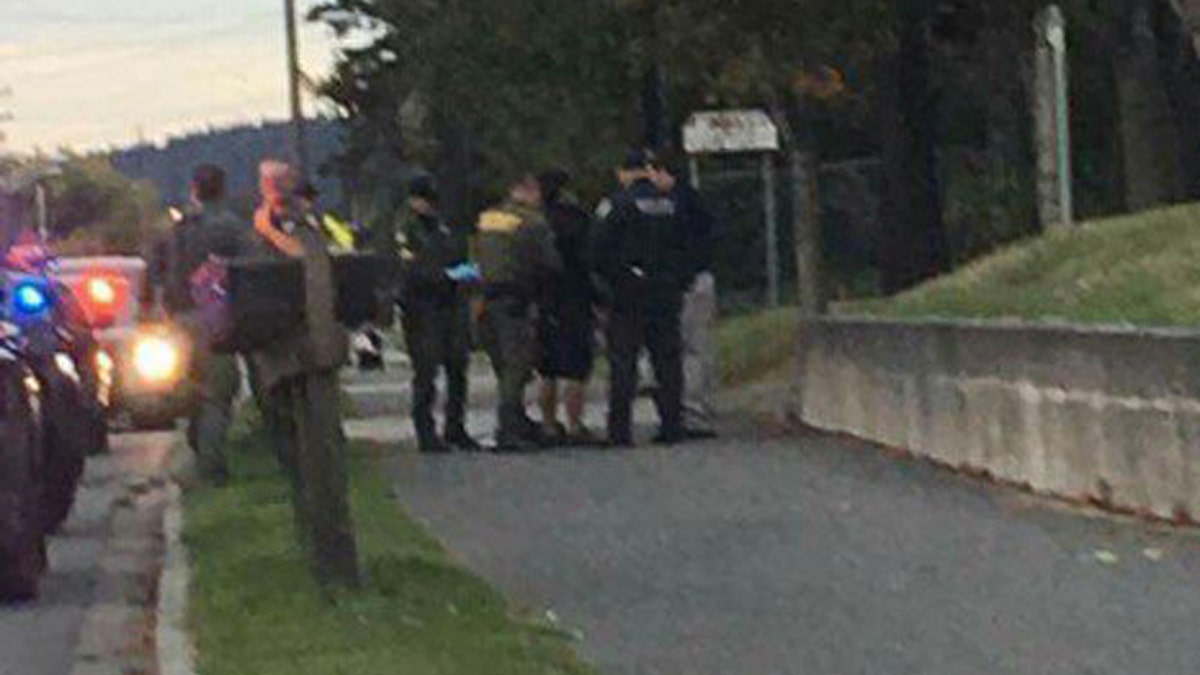 Island County Sheriff's Lt. Mike Hawley told reporters that he spotted Cetin near the suspect's home in Oak Harbor, around 30 miles due west of the mall. Hawley said he immediately recognized Cetin as the suspect, turned his patrol car around and arrested Cetin without incident.
"He said nothing," said Hawley, who added that Cetin was unarmed and carrying a computer in a satchel when he was apprehended. "He was kind of zombie-like."
Mount Vernon Police Lt. Chris Cammock said Cetin had immigrated to the U.S. from Turkey and was a "legal permanent resident." It was not immediately clear when Cetin came to the U.S.
Hawley said Cetin had been arrested for simple assault last year, but provided no further details on the case. The Seattle Times reported that Cetin faced three domestic violence assault charges in both Burlington and Island County, with the victim identified as Cetin's stepfather. The newspaper reports Cetin also was arrested for drunken driving.
Court records show Cetin was told by a judge on Dec. 29 that he was not to possess a firearm, the newspaper reported.

However, the stepfather urged the judge not to impose a no-contact order, saying his stepson was "going through a hard time."

Cetin was arrested almost exactly 24 hours after his alleged victims were shot at the mall Macy's makeup counter. The four female victims died in the store. The male victim died early Saturday as police finished sweeping the 434,000-square-foot building.
Local media outlets had identified the victims as of early Sunday. One was 16-year-old Sarai Lara, a cancer survivor and high school sophomore. Her mother, Evangelina, told the Seattle Times that through a translator that she was shopping with Sarai and her younger sister, but they split up.

She said Sarai went to Macy's looking for pants. News of the shooting spread through the mall, and Lara tried to get to her daughter but was unable to do so.

KIRO-TV identified two more victims as Belinda Galde, 64, and her mother, 95-year-old Beatrice Dotson.
The Seattle Times identified the other two victims as Macy's makeup artist Shyla Martin, 52, and Chuck Eagan, a Boeing maintenance worker who was shot while helping his wife flee the store.
"There are people waking up this morning, and their world has changed forever. The city of Burlington has probably changed forever, but I don't think our way of life needs to change," Burlington Mayor Steve Sexton said earlier Saturday. "This was a senseless act. It was the world knocking on our doorstep, and it came into our little community."

Surveillance video captured the suspect entering the mall unarmed and then recorded him about 10 minutes later entering the Macy's with a "hunting type" rifle in his hand, Cammock said. The lieutenant said late Saturday that the rifle was apparently brought into the mall from a suspect vehicle. The weapon was recovered at the scene.
"Probably one of the most difficult moments for us last night was knowing that there were family members wondering about their loved ones in there," Cammock said.
Burlington, a community of 8,600 people, is about 65 miles north of Seattle, too far to be a commuter town, but its population swells to 55,000 during the day because of a popular outlet mall, retail stores and other businesses. Burlington is the only major retail center within 30 miles in a region where agriculture is king, said Linda Jones, president of the Burlington Chamber of Commerce.

Residents gathered Saturday to comfort each other at a community gathering in a city park.

"It's too scary. It's too close to home," said Maria Elena Vasquez, who attended the gathering with her husband and two young children.

Joanne Burkholder, 19, of Mount Vernon, was watching the movie "The Magnificent Seven" in the mall's theater when security guards came in and told them to evacuate immediately. Dozens of panicked moviegoers gathered in the hallway, and Burkholder heard screaming as the officers escorted them to safety in a parking lot.
As she drove home later, she had to pull over because she was shaking so hard, she told The Associated Press.

"I'm just very thankful for my life this morning. I've never been so terrified in my life," she said Saturday, trying to hold back tears as she attended the community vigil.

"You'd think it would happen in Everett or Seattle, but a small town of Burlington, I'd never dream something like this would happen."

People who believed they may have lost loved ones were being sequestered at a church three blocks from the mall, where counselors and a golden retriever therapy dog were present.

Dozens of people attended a Saturday evening prayer service for the victims. The gathering was held at Central United Methodist Church in nearby Sedro-Woolley, Wash.

The Rev. Cody Natland lit five candles on a table in front of the church, one for each victim.
The Associated Press contributed to this report.