'Make I take a deep breath, please?' 5 things to know about the National Spelling Bee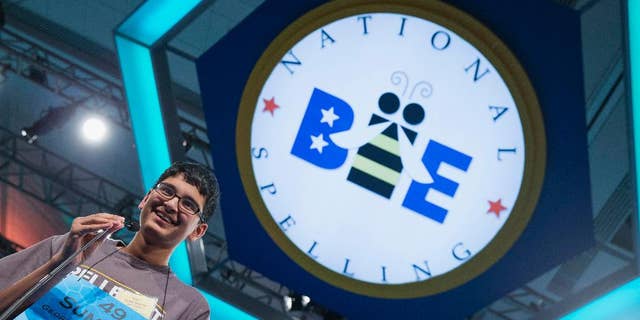 OXON HILL, Md. – Here are five things to know from Wednesday's preliminary rounds of the 87th edition of the Scripps National Spelling Bee, which concludes Thursday with the semifinals and finals.
___
1. DEEP BREATHS AND DOGS
Spellers ask all sorts of questions when they reach the microphone, some more useful than others.
"Make I take a deep breath please?" said Neha Seshadri of Northville, Michigan, before correctly spelling "taiga."
Speaking of breaths, Buddy Noorlander of Oneonta, New York, spun the relaxation theme in another direction.
"I'd like my mom to take a deep breath," Buddy said before hearing his word. He then paused and added: "I think she's ready now."
Another running gag involved the number of dog-related words — at least seven in one round alone.
"I started noticing another dog and another dog and another dog. ... It wasn't designed that way," Bailly said.
Then there are the unusual mannerisms the competitors use while spelling the words. Kate Miller of Abilene, Texas, is among those who employ a modern tactic — using her fingers to "air-type" the letters as if using a keyboard.
___
2. THESE KIDS ARE GOOD
The three Spelling Bee officials stationed at the comfort sofa were spoiled for work during the preliminary rounds. The spellers were 41 for 41 until the telltale bell sounded for the first time, when Amy Maldonado of Naples, Florida, was eliminated on "keeshond" (a Dutch dog breed).
Only 24 of 281 words were misspelled in the morning round, and 34 of 257 in the afternoon. Competitors who misspell are greeted with a handshake as they exit the stage, then are offered words of support in the comfort area — where there is a box of tissues on hand, if needed — until greeted by a parent.
That left 223 spellers still in the running. They were whittled down to 46 semifinalists based on their scores on a computerized spelling and vocabulary test taken Tuesday.
Among those advancing are the three returning finalists from last year: Sriram Hathwar, 14, of Corning, New York; Vanya Shivashankar, 12, of Olathe, Kansas; and Syamantak Payra, 13, of Friendswood, Texas. Syamantak and Mary Horton, 13, of West Melbourne, Florida, tied for highest score on the computer test.
___
3. YEP, YOU GOT IT RIGHT
There's a subtle but significant difference this year for regular viewers of the Spelling Bee. When a speller spells a word correctly, judge Blake Giddens announces "correct." In previous years, there would be no audible acknowledgement of a correct spelling, only a nod from the judges — while everyone else endured a suspenseful second or two of silence waiting to hear if the elimination bell would sound.
Bee Director Paige Kimble said the change was made to add "clarity" to the proceedings so that spellers, audience and TV viewers would all know immediately if the spelling is right or wrong.
"Sometimes," Kimble said, "a head-nod just isn't enough."
___
4. NOT MUCH DING
Another noticeable difference Wednesday was the bell. The solid tone that used to signal a misspelling was replaced by a more feeble sound.
Kimble explained that the judges were using a substitute bell because head judge Mary Brooks had to miss the competition at the last minute because of an illness in the family.
"She has a special bell that she brings every year," Kimble said.
___
5. SPELLCHECK & THE BEE
Bee officials often get asked how spellcheck has affected the competition. The answer? Not much at all — because the hardest words at the Bee aren't in spellcheck's league.
"Spellcheck is useful for 'recede' and 'embarrass' and those often misspelled words," Bailly said. "But, honestly, I don't even know if spellcheck could check a lot of these words. It'll underline it and tell you, 'I don't even know this word.'"
___
Follow Joseph White on Twitter: http://twitter.com/JGWhiteAP