Baltimore gas explosion levels homes; 1 woman killed, 6 injured
Fox Baltimore reports that medical units have been called to the scene
NEWYou can now listen to Fox News articles!
Baltimore firefighters searched through the rubble Monday after a gas explosion destroyed three rowhouses, killed a woman and seriously injured several other people.
Firefighters worked through the afternoon to rescue anyone who still might be trapped but hadn't determined if there were other victims, fire officials said.
"It's a rescue operation so right now we're still searching," Baltimore Fire Department spokeswoman Blair Adams told reporters at a mid-afternoon news briefing. She said six people had been transported to the hospital.
The blast, which also shattered windows in other homes, happened shortly before 10 a.m. in a residential neighborhood in the northwest part of the city.
"This was a very intense explosion," Fire Chief Niles Ford told a noon news briefing. "This is a horrendous type situation that we're dealing with at this point."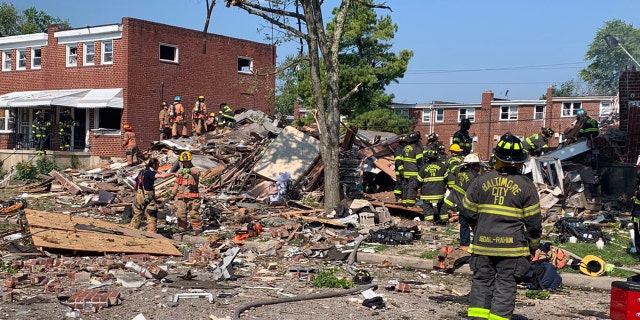 Fire officials don't know how many people on the block were displaced because of damage to their homes.
One destroyed home belonged to an 88-year-old U.S. Army veteran, the Baltimore Sun reported. That veteran, Major Watkins, Jr., said the explosion "sounded like Korea."
Shortly before noon firefighters rescued a woman who had been trapped for two hours. She was transported to the hospital with three others who were rescued earlier. She was seen giving a thumbs up as she wheeled down the street in a stretcher.
Another trapped person, a man, was rescued a short time later, according to local media.
All of the injured were listed in serious condition, Fox 45 Baltimore reported.
Ford said the cause of the gas explosion was under investigation.
"It's a disaster. It's a mess. It's unbelievable," said Diane Glover, according to the Associated Press. The explosion shattered the windows of her home across the street and blew open her front door, bending the frame. "I'm still shaken up," she said hours later.
"We are closely monitoring the situation in northwest Baltimore following this morning's horrific explosion," Maryland Gov. Larry Hogan said on Twitter. "We have reached out to offer our full support to the ongoing response and recovery efforts, and are deeply grateful to the first responders on the scene."
BEIRUT EXPLOSION LEAVES 300,000 HOMELESS, LEBANESE PORT OFFICIALS UNDER HOUSE ARREST
"Several houses exploded. At least 5 people trapped, some children. A Collapse Respose and Second Alarm has been called," tweeted Baltimore Firefighters IAFF Local 734. The tweet was retweeted by the Baltimore Office of Emergency Management.
Baltimore Firefighters IAFF Local 734 said on Twitter that the person who was killed was pronounced dead on the scene.
ENTIRE LEBANESE CABINET RESIGNS AS BEIRUT EXPLOSION DEATH TOLL SURPASSES 200
"2 occupants transported in serious condition, 1 adult woman deceased as BCFD continue to search for more," the Baltimore Fire Department tweeted.
A spokesperson for the utility, Baltimore Gas and Electric, said workers responded after the explosion.
"Crews are working to turn off gas to the buildings in the immediate area," the spokesperson said. "Once the gas is off we can begin to safely assess the situation including inspections of BGE equipment."
CLICK HERE TO GET THE FOX NEWS APP
Witnesses told WJZ-TV they heard a loud explosion and heard the ground shake.