Maine fugitive on lam for 2 months after ex-girlfriend's shooting death turns himself in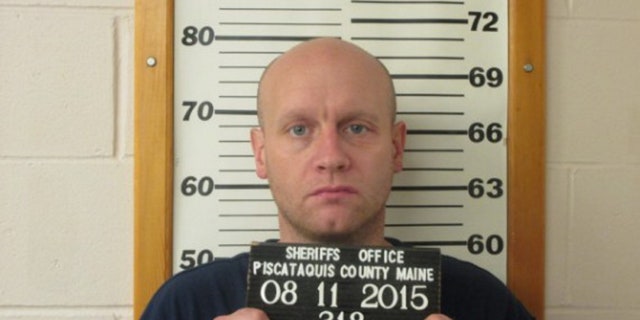 NEWYou can now listen to Fox News articles!
AUGUSTA, Maine – A man who broke into his ex-girlfriend's home, fatally shot her while her children slept and then spent more than two months hiding in the woods turned himself in on Tuesday, officials said.
Robert Burton surrendered around noon in Dover-Foxcroft, ending the longest manhunt in decades in Maine, authorities said. The 38-year-old was "walking and talking" and appeared to be in decent shape, a spokesman for the Piscataquis County Sheriff's Department said. Authorities believe he had been breaking into camps and stealing food.
Burton is accused of killing his ex-girlfriend, 37-year-old Stephanie Ginn Gebo, whose body was found in her home in Parkman on June 5. Police said he broke into the home and shot her while her children slept upstairs shortly after Ginn Gebo ended their relationship.
Her father, Vance Ginn, said he was elated by Burton's capture, which he said put an end to two extremely difficult months for his family.
"We weren't sleeping, we weren't eating. ... The only thing on your mind is him getting caught and what he did to your family," Ginn said Tuesday from his home in Abbot. "This is the only happy day we've had since June 5."
A Maine State Police spokeswoman said detectives have been sent to interview Burton in Piscataquis County, where he is being held at the jail. Burton is expected to make his first court appearance in the next couple of days, she said.
Burton had been on the run since June, roaming the woods near where he grew up and eluding capture despite several sightings.
Shortly after his disappearance, he was spotted near a snowmobile trail in Guilford. Last month, a camp owner in the area told police that he saw Burton on his property, where he stole a canoe or kayak before fleeing again.
Over time, the manhunt grew to involve more than 100 law enforcement officers from Maine and beyond, with officers using tracking dogs, helicopters and foot patrols.
The manhunt set residents and out-of-state visitors on edge. Police set up electronic signs in the Parkman area warning vacationers that a manhunt was underway and urging them to call with tips. Residents were told to lock their homes and vehicles because Burton was considered armed and dangerous.
___
Associated Press writer David Sharp in Portland contributed to this report.
___
This story has been corrected to show that the victim's father is named Vance, not Vince, Ginn, and that Burton is 38, not 37.