Maine Company's Wreath-Laying Ceremony Expands at Arlington Cemetery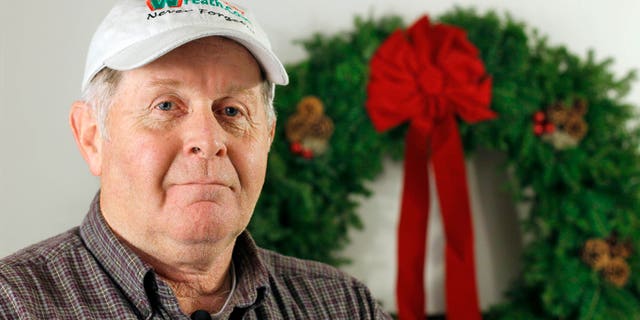 NEWYou can now listen to Fox News articles!
Portland, ME – Each December for the past 20 years, a Maine wreath company has arranged for 5,000 to 24,000 wreaths to be laid on graves at Arlington National Cemetery. This year, it has set its sights on placing wreaths on virtually all 220,000 headstones to pay tribute to the nation's veterans.
It's appropriate that every veteran at the cemetery receive a wreath to mark the 20th anniversary of the annual wreath-laying ceremony, said Karen Worcester, executive director of Wreaths Across America, a nonprofit that organizes the ceremony and is soliciting sponsorships and donations to pay for the effort.
Worcester is the wife of Morrill Worcester, who as president of Worcester Wreath Co. began shipping wreaths to Arlington in 1992.
"Arlington's where our project started, and our goal has always been to show that respect to every veteran that's passed," Karen Worcester said. "It's ambitious, but every person buried there is part of our heritage and our history."
The Arlington project is part of a larger effort by Wreaths Across America, which last year arranged for more than 200,000 donated wreaths to be laid at 500 veterans' cemeteries across the country and 24 overseas locations.
Morrill Worcester began shipping wreaths to Arlington in 1992 when his wreath company, located in the eastern Maine town of Harrington, found itself with 5,000 extra wreaths in mid-December, too late to bring to market. In 2006, he founded Wreaths Across America to coordinate other wreath-laying ceremonies.
Worcester is donating 25,000 of wreaths to Arlington National Cemetery this year, with the rest paid for through corporate sponsorships and donations from groups and individuals.
With the expanded Arlington wreath-laying effort, Wreaths Across America this year plans to distribute 400,000 wreaths in all.
To get the wreaths to Arlington, a convoy of nearly 50 tractor-trailer trucks will depart Maine in early December and drive to Arlington. The remembrance ceremony at Arlington, when volunteers will place wreaths on veterans' headstones, is scheduled for Dec. 11.