New 7.1 earthquake hits Southern California -- 1 day after largest temblor in decades
NEWYou can now listen to Fox News articles!
A magnitude 7.1 earthquake hit Kern County in California on Friday evening -- just a day after a magnitude 6.4 earthquake that was the largest temblor in the region in two decades, the U.S. Geological Survey confirmed.
Shaking on Friday evening was felt as far away as Las Vegas and Los Angeles and into northern Mexico. The USGS said there was a 5 percent chance a larger quake could still follow.
The newest earthquake's epicenter was about 10 miles north-northeast of Ridgecrest, Calif., about 150 miles northeast of Los Angeles, in the same area where Thursday's quake occurred. The Ridgecrest area has had more than 100 aftershocks since Thursday's earthquake and experts warn there could be more to come.
NO INJURIES REPORTED AFTER POTENT QUAKE RATTLES SOUTHERN CALIFORNIA; AUTHORITIES ASSESSING SCENE
Thursday's quake is now being considered a foreshock to Friday's, the USGS said. Dozens of aftershocks continued into the night after Friday's quake as well.
"Every earthquake makes another earthquake more likely and that's what we're seeing right here," Caltech seismologist Dr. Lucy Jones said Friday. "The first one is often not the biggest one."
"Every earthquake makes another earthquake more likely and that's what we're seeing right here. The first one is often not the biggest one."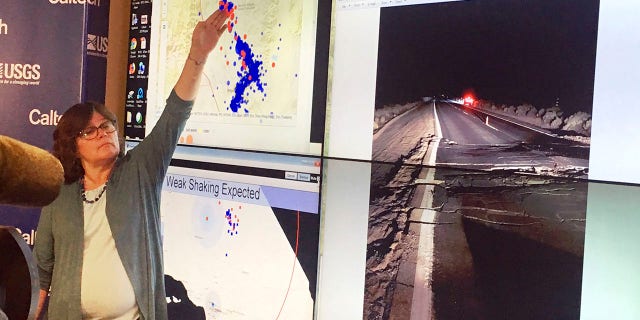 Fortunately, there were no reports of fatalities. "Nothing but minor injuries, such as cuts and bruises, as the grace of God," Ridgecrest police Chief Jed McLaughlin said.
In areas of Kern County outside Ridgecrest, officials reported "multiple injuries and multiple fires," according to KABC-TV of Los Angeles. There were rock slides on three highways reported near Ridgecrest, several water main and gas line breaks and structure fires. Power was out in parts of Ridgecrest and Los Angeles.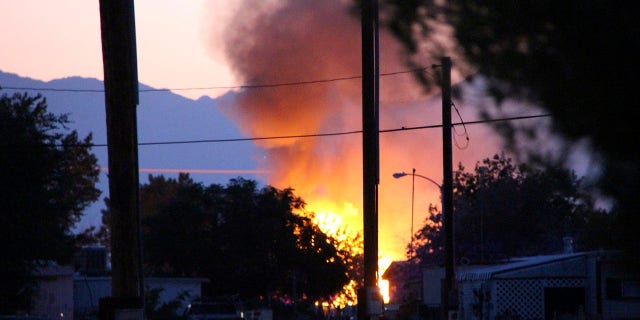 The Los Angeles Fire Department told KCAL-TV there had been no reports of injuries or serious damage in the county. But several neighborhoods in Los Angeles were reporting power outages, FOX 11 of Los Angeles reported.
Scientists said the fault causing the earthquakes seems to be growing, the Los Angeles Times reported.
The quake cracked buildings, damaged roads and caused fires near the epicenter, the Associated Press reported.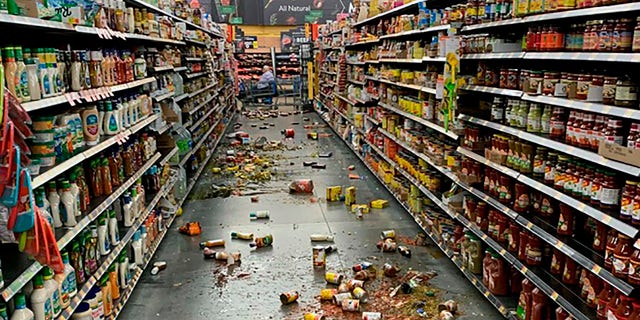 Ridgecrest, a city of about 29,000 residents, is home to Naval Air Weapons Station China Lake, which was closed Friday for safety inspections following Thursday's quake.
NAVAL WEAPONS BASE NEAR QUAKES' EPICENTER CLOSED FOR SAFETY INSPECTIONS
The probability of a magnitude 6.0 or higher quake in the next week is at least 50 percent, Jones said.
She added that 20 years without a magnitude 6.0 or larger is not normal. Generally, they occur in California about every five years.
About 20 percent of earthquakes strike in both directions, which may have been the case Friday, Jones added.
"We don't get the 7's very often," she said, explaining a 7.0 quake or higher usually occurs every 15 to 20 years.
House Minority Leader Kevin McCarthy, whose district includes Bakersfield, was in Ridgecrest on Friday, visiting with first-responders and touring damage from Thursday's quake. He tweeted information after about emergency shelters in the area.
California's Office of Emergency Services reported that Gov. Gavin Newsom reached out to the White House on Friday to request presidential disaster relief.
Newsom tweeted that he had spoken to Ridgecrest's mayor about the earthquake, adding, "In response to another large earthquake in Southern California tonight, I have activated the @Cal_OES state operation center to its highest level. The state is coordinating mutual aid to local first responders."
In Las Vegas, a Summer League NBA game between the New Orleans Pelicans and New York Knicks was suspended in the fourth quarter Friday when the scoreboard over the players began to sway.
In Los Angeles, commentators at Friday's Dodgers-Padres game also reported feeling the earthquake.
Los Angeles International Airport reported on Twitter that no flights were delayed due to Friday evening's earthquake.
CLICK HERE TO GET THE FOX NEWS APP
A magnitude 6.6 earthquake hit the Northridge neighborhood of Los Angeles in 1994, killing dozens of people and causing billions in damage. Ridgecrest is located in a less populated area of the Mojave Desert and no fatalities have been reported.
Friday's earthquake was initially downgraded to a magnitude of 6.9 but was then upgraded to a 7.1 by the USGS.
The Associated Press contributed to this report.
This is a developing story. Check back for updates.