Lyft driver pulled gun on passengers, used homophobic slur, lawsuit alleges
Two men filed a lawsuit in Chicago against Lyft after one of its drivers allegedly drew a gun, ordered them out of the vehicle and shouted a homophobic slur.
Charlie Calvin, 31, and another passenger, who is not identified in the lawsuit filed Wednesday, requested a ride home on Sept. 1 while they were in Boystown, a well-known gay neighborhood in Chicago. They were paired with Lyft driver Jaleesa Rance.
The men had been out with friends and were leaving the club Sidetrack early in the morning.
An argument ensued after the men pointed out that the driver had taken a wrong turn, according to police and the lawsuit.
Not long into the ride, Rance allegedly pulled a 9MM hand gun out of the center console, pointed it at Calvin, and told both men to get out of her vehicle.
The lawsuit states that the Lyft driver followed them out of the car, pointed the gun at them again, and yelled, "I'll blast you" and used the slur.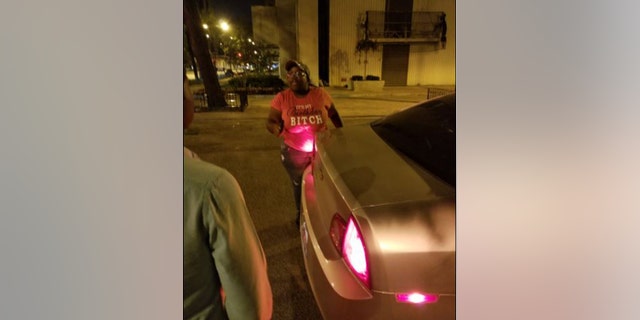 LYFT DRIVER KILLED, PASSENGER WOUNDED IN CLEVELAND SHOOTING
Rance, who fled the scene, was arrested by police shortly afterward and charged with aggravated assault and unlawful use of a handgun. Officers allegedly recovered a gun from her vehicle with 18 live rounds.
Calvin and the other passenger took a photograph of Rance pointing the gun at them with her finger on the trigger.
The event has left Calvin and the co-passenger "emotionally distressed" and "fearful," according to a statement from their lawyer.
A civil lawsuit, filed in Cook County, Ill. on the men's behalf, names Lyft and the driver as defendants and seeks at least $100,000 in damages.
"Lyft promises a safe, weapons-free, discrimination-free experience," LegalRideshare attorney Bryant Greening said in a statement. "The company failed our community when its driver allegedly pointed a gun in the faces of two young men because of their sexual orientation."
A Lyft spokesperson would not comment on the lawsuit. But, in a statement to Fox News, the company said it immediately took action after learning about the allegations.
"These allegations are disturbing. The behavior being described violates multiple Lyft policies, including our non-discrimination and no weapons policies," the statement said. "As soon as this incident was reported to us, we deactivated the driver and reached out to the passenger to offer our assistance."
Nevertheless, the incident highlights the ongoing problems facing ridesharing companies like Lyft and Uber, from harassment and discrimination to outright violence.
"Guns, violence, homophobia: these are all concerns we hear about often," Greening said. "Yet, the rideshare companies seem to lack the motivation to protect passengers and drivers."