Louisiana mom, ACLU claim school district promoted Christianity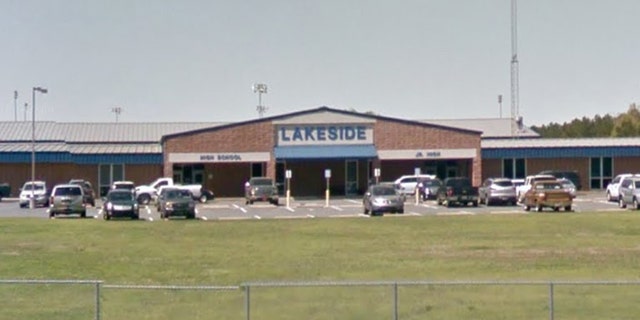 A Louisiana parent is suing her daughter's school district, alleging it is violating the Constitution by "promoting and inculcating Christian religious beliefs."
The lawsuit was filed Monday by the American Civil Liberties Union (ACLU) in federal district court in Louisiana. It documents more than 30 alleged incidents at Webster Parish School District facilities in northwest Louisiana.
"So engrained is official promotion of religion at Webster Parish schools that virtually all school events — such as sports games, pep rallies, assemblies, and graduation ceremonies — include school-sponsored Christian prayer, religious messages and/or proselytizing," the lawsuit stated.
"Graduation ceremonies are frequently held in houses of worship, and at times they resemble religious rituals that include Bible verses and Christian prayers," it added.
The suit also says that parent Christy Cole, identified by the ACLU as a Christian, believes her daughter Kaylee, who is agonistic, "should be able to attend public school without exposure to government-sponsored religious practices and messages, and without harassment for their religious beliefs."
The Webster Parish School Board, the district's superintendent, Johnny Rowland, and Denny Finley, the principal of the Lakeside Junior/Senior High -- where Kaylee is enrolled as a junior -- are mentioned in the suit as co-defendants.
"We haven't even seen a copy of the lawsuit so we have no idea of what is even in there," Finley said when reached by Fox News, referring to Rowland to answer questions about it.
The district did not comment when reached by Fox News.
The lawsuit seeks to have the district cease the alleged acts. It also seeks attorneys' fees and "compensatory damages in an amount to be determined" over the plaintiffs' mental and emotional distress.
"The First Amendment to the United States Constitution prohibits public schools from proselytizing, sponsoring prayer, or otherwise promoting religion," the lawsuit stated. "When public schools engage in these unconstitutional activities, they harm schoolchildren by coercing them into religious practices and subjecting them to unwelcome indoctrination and religious messages; they harm parents by usurping their right to control the religious upbringing of their children."
Among the other allegations, there is a claim of required attendance at performances by a Christian rapper. Also, Kaylee is said to have seen a teacher grab a boy's shirt and push him into the hallway for not standing during a Christian prayer, and an elementary school teacher allegedly slapped a Bible down on the desk and implied to students that it should be taken literally.
The school board policy on prayer in schools permits officials to allow for an opportunity for prayer or meditation at the beginning of the day if they choose to do so, WAFB reports. It adds that students are not required to participate in any religious activities at schools or sponsored by the schools.
"Webster Parish School District is dedicated to providing a world-class education which prepares our students to positively contribute to the ever-changing global community," said a vision statement on the board's website. "Our educational system will nurture creativity, collaboration, communication, problem solving and critical thinking in ALL our students to help them become college- and career -eady."