Louisiana marshals indicted in shooting death of 6-year-old boy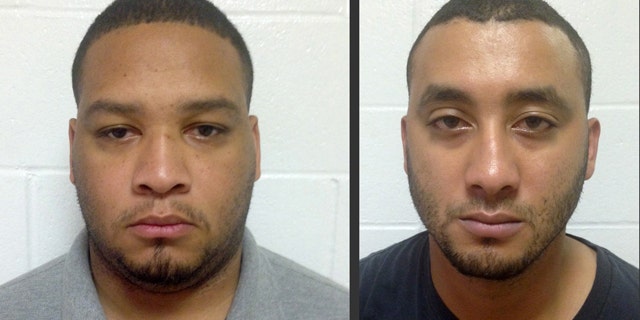 A Louisiana grand jury indicted two deputy marshals on murder charges Thursday in connection with the shooting death of a 6-year-old autistic boy and the wounding of his father.
Norris Greenhouse Jr., 23, and Derrick Stafford, 32, were arrested on second-degree murder charges last month. The indictment handed up by an Avoyelles Parish grand jury charged the men with one count each of second-degree murder and attempted second-degree murder.
Police say Stafford, a full-time police lieutenant, and Greenhouse, a former police officer, were moonlighting as deputy city marshals in Marksville on the night of Nov. 3 when they fired at least 18 rounds at a car driven by Christopher Few. Few was critically wounded by two gunshots, while his son, Jeremy Mardis, received five gunshot wounds and was pronounced dead at the scene.
After the indictments were announced, state District Judge William Bennet lifted a gag order, enabling the release of court filings, including statements by Marksville Police Sgt. Kenneth Parnell III.
Parnell told investigators he didn't fire his own weapon because "he didn't fear for his life". The document also said Parnell's body camera shows that "Christopher Few's empty hands are raised and visible inside the vehicle when gunfire becomes audible."
"The body camera video is approximately 13 minutes and 47 seconds long. At approximately 26 seconds into the video, the driver, Christopher Few's empty hands are raised and visible when gunfire becomes audible," the document states.
Caldwell vowed Thursday to "continue (a) detailed and thorough investigation as we prepare for trial."
The boy's grandmother wept as state District Judge William Bennett read the indictment aloud in court.
"We don't get Jeremy back, but we got what we wanted today," Cathy Mardis said.
Earlier, she spoke to the news media outside the courthouse, calling for the release of the body camera footage of the shooting and describing the pain the shooting had inflicted on the family.
"It's been pure hell. I can't explain what it's like to bury your 6-year-old grandchild," said Mardis, 46, of Hattiesburg, Mississippi.
Bennett lifted a gag order on people involved in the case but prosecutors declined to disclose any additional details about the incident or describe what the video depicts.
Defense attorneys said prosecutors haven't turned over any evidence for them to review yet.
George Higgins III, an attorney for Greenhouse, said, "We've yet to see any evidence for ourselves. I just know there's a lot more to this story than what has been talked about."
Jonathan Goins, a lawyer for Stafford, declined to describe his client's account of the incident, but said evidence will show he "acted in a very lawful way."
State Police Col. Mike Edmonson cited the video when he announced the arrest of the two officers, calling it the most disturbing thing he's seen. But he gave no indication of what's on the video.
Last month, an attorney for Few told The Associated Press that video from another officer's body camera showed Few had his hands up inside the vehicle and didn't pose a threat when the officers opened fire. The judge hearing the case then swiftly imposed a gag order, keeping those involved from speaking to the media.
Cathy Mardis said she has not seen the tape and can only imagine what is on there but added: "I thank God the tape is there."
"I want justice for Jeremy. I want justice for Chris," she said. She said the family had an open casket funeral for her grandson even though there were signs of trauma on his body.
She quoted the funeral director as saying, "Don't touch his head. It might fall back apart."
The grandmother wore a Teenage Mutant Ninja Turtles T-shirt, in honor of her grandson who loved the characters. Standing by her side outside the courthouse was Samantha Few, the mother of Chris Few.
Cathy Mardis spoke lovingly of her grandson. He was autistic and non-verbal but very bright, she said.
"He was the most loving child you could have met. He was always smiling and happy. He taught himself to read at 3 years old just from watching YouTube," she said. Jeremy Mardis has a younger sister who still cannot understand what happened, the grandmother said.
"She's still asking to see her brother every day," she said.