Los Angeles restaurant shooting leaves 2 injured, aftermath caught on video
Two people were hurt in a shooting at a popular Los Angeles restaurant Monday as customers ducked for cover using tables as shields.
The Los Angeles Police Department told FOX 11 the incident began with a confrontation between an employee and customer at Carolyn's Kitchen, located in South Los Angeles.
Video posted to social media after the shooting shows the restaurant's windows blown out and several patrons hiding behind tables. Crying children could be heard in the background.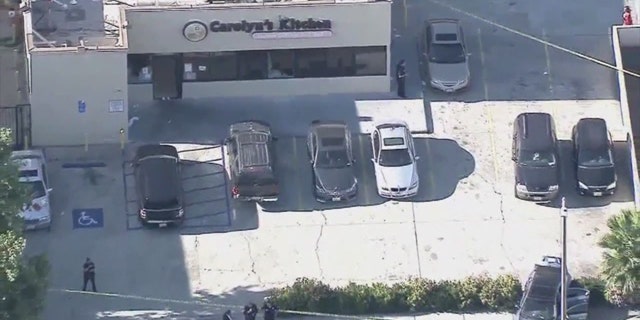 A woman is heard in the video asking for water to give to some of the patrons who are overcome with emotion and sobbing as the camera pans around.
Two restaurant employees told FOX 11 the incident began when three customers began beating up a man inside the establishment. When two of their coworkers stepped in to break it up, one man went outside to a car, grabbed a gun and started shooting into the restaurant.
"Glass was shattering, people were screaming get down, get down," said Tizinski Bailey, a cook at the restaurant. "A couple of bullets passed right past me, and I could hear the whistle, so I thought I was gonna get hit, but fortunately I didn't."
Bailey said two of his coworkers were injured in the melee. Employees told FOX 11 that other customers returned fire at the suspects.
"One got shot in the leg, and he's fine, the other got shot in the stomach below the belly button, it went in and out, more like a flesh wound, I talked to him earlier on the phone and he's fine," he said.
A city bus was hit by a bullet, and the windows of several cars in the parking lot were shot out, according to FOX 11.
The two suspects fled the area and have not been yet been caught or identified, the LAPD said.