Los Angeles County DA candidate's past job as top cop saw crime surge
San Francisco's mayor and city attorney have refused to endorse his candidacy
A Los Angeles County District Attorney candidate's tenure as San Francisco's chief prosecutor has come under renewed scrutiny for policies that many say resulted in surging crime.
George Gascon, 66, is running as the progressive alternative to two-time incumbent Jackie Lacey, who has faced her own criticism for rising crime rates in Los Angeles.
Gascon rose through the ranks in law enforcement, having worked in the Los Angeles and Mesa, Ariz., police departments before replacing Kamala Harris as District Attorney of San Francisco in 2011.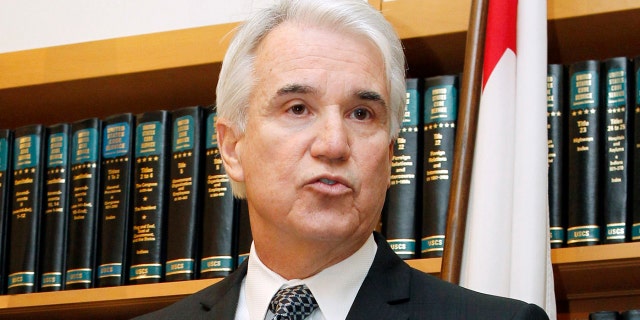 During his time in office, between 2011 and 2019, property crime rates in San Francisco rose by 49% and violent crime increased by 15%, according to data from The Los Angeles Times.
A spokesman for Gascon argued that while incidents of violent crime increased, the overall rate decreased when factoring in population growth. The spokesman also noted that violent crime rose in Los Angeles over that same time period.
Critics said Gascon was reluctant to prosecute low-level crimes, such as car break-ins. However, Gascon has argued that going after petty crimes represented a waste of resources for certain defendants such as the homeless and mentally ill, and would perpetuate their cycles of crime. His spokesman said Gascon saved "a tremendous amount of taxpayer resources" through "modern approaches to community safety."
COMPTON SHOOTING: CHARGES FILED IN AMBUSH OF 2 DEPUTIES EARLIER THIS MONTH
Gascon's time as San Francisco D.A. sparked sharp division. Late last year, San Francisco Mayor London Breed and City Attorney Dennis Herrera refused to endorse his candidacy for Los Angeles District Attorney.
But on Tuesday, The Los Angeles Times editorial board threw their support behind him for his "reexamination to the entire criminal justice system" while San Francisco's district attorney.
"Gascon is the right candidate at the right time in the largest local criminal justice jurisdiction in the United States," the board wrote. "He brings with him the frontline experience of a cop who saw the tough-on-crime ethic wreak havoc in the communities he policed and is one of the few police leaders to question the old-style approach."
In a Tuesday interview with ABC 7, Gascon pledged that, as district attorney, he would reopen investigations into four deadly police shootings that Lacey declined to prosecute.
Lacey has dismissed the pledge as a political stunt that risks creating "major ethical dilemmas that will damage the reputation and the prestige of this office which should always be an independent, apolitical institution."
CLICK HERE TO GET THE FOX NEWS APP
Despite his pledge to re-open cases involving deadly police shootings, Gascon did not prosecute any officers who were accused of fatal shootings. Gascon has justified this on account of having never been presented a case "where the police shot an unarmed person."
"But in some cases, I came out publicly and said this is an unnecessary shooting," he told ABC 7.