Lori Vallow pleads not guilty to charges of conspiring to hide children's remains
Authorities discovered the remains of her two children, ages 7 and 16, on her husband's property on June 9
Lori Vallow on Thursday pleaded not guilty in Idaho's Madison County Magistrate Court to charges of conspiracy to conceal, destroy or alter evidence of her children's remains, according to FOX 10 Phoenix.
Vallow, an Idaho mother at the center of a case involving the 2019 disappearance and death of her two children, pleaded not guilty during a five-minute hearing held via Zoom. A jury trial was set for April 2, 2021.
LORI VALLOW WILL BE CHARGED IN DEATH OF HER EX-HUSBAND WITHIN 4-6 MONTHS, POLICE CONFIRM
Authorities discovered the burned remains of Vallow's two children — Joshua "JJ" Vallow, 7, and Tylee Ryan, 17 — on her husband's rural Idaho property on June 9.
Vallow's husband, Chad Daybell, had already pleaded not guilty on Aug. 21 to charges of felony counts of conspiracy to commit destruction, alteration or concealment of evidence, as well as two felony counts of destruction, alteration or concealment of evidence, according to FOX 10 Phoenix.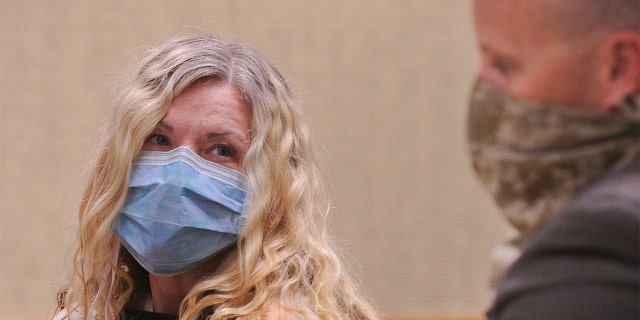 Special prosecutor Rob Wood and the state of Idaho on Sept. 2 joined Vallow's and Daybell's criminal cases.
"Charges against defendant [and] the co-defendant allege they participated in same act or series of acts [and] conspired to commit the alleged act or series of acts," a court motion reads, according to local news outlet KSAZ-TV.
LORI VALLOW, CHAD DAYBELL TALKED BY PHONE ON DAY KIDS' BODIES FOUND, RECORDINGS SHOW
Neither Vallow nor Daybell, who were married last November just weeks after both of their previous spouses died, are charged in the deaths of the children.
An investigation into the children's' disappearances led officials on a complicated search through Idaho, Arizona and Hawaii. Authorities said the couple lied to investigators and did not cooperate.
Vallow is also a person of interest in the case of the 2019 fatal shooting of her former husband, Charles Vallow, who was shot by his brother-in-law, Alex Cox, in July 2019 after an altercation in a suburban Phoenix home, police in Arizona say.
LORI VALLOW SEES 2 FELONY CHARGES DROPPED
In divorce documents, Vallow's late husband expressed fear that his wife would kill him and said she had developed cult-like behavior. Vallow said his wife once referred to herself as "a god assigned to carry out the work of the 144,000 at Christ's second coming in July 2020," according to FOX 13 Salt Lake City.
Vallow was arrested in February on child abandonment charges, which prosecutors dropped in July, and is being held on a $1 million bail.
Daybell's late wife, Tammy Daybell, died in October. Autopsy results have not been. Daybell is also being held on $1 million bail.
CLICK HERE TO GET THE FOX NEWS APP
Fox News' Louis Casiano contributed to this report.