Long Island police dog killed in crash after chase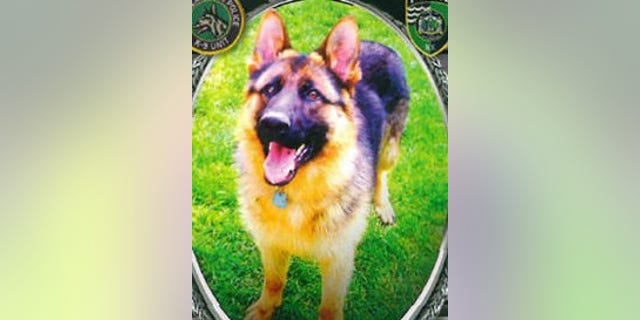 NEWYou can now listen to Fox News articles!
Police in New York are mourning the loss of a K9 officer killed in the line of duty on Sunday during a police chase of a driver who reportedly sped away from a DWI checkpoint.
Rocky, the police dog with the Riverhead Police Department on Long Island, died early Sunday morning, WNBC reported.
A dark-colored Audi approached the checkpoint around 2:30 a.m. Officers stopped the vehicle, but the driver ignored their commands to stop and drove away from the checkpoint, allegedly hitting an officer who tried to talk to him, according to the report.
Several police units, including Rocky and the dog's K9 unit officer, then pursued the vehicle. The officer traveling with Rocky reportedly lost control of his vehicle, running off the road and crashing into a utility pole.
Rocky was hurtled from the vehicle and killed. The department then stopped the police pursuit, deeming it too dangerous.
Rocky, a German Shepherd, had worked for the Riverhead Police Department for seven years.
The officer who allegedly was hit by the Audi driver and the K9 unit officer involved in the crash were taken to the hospital with non-life-threatening injuries, the station reported.