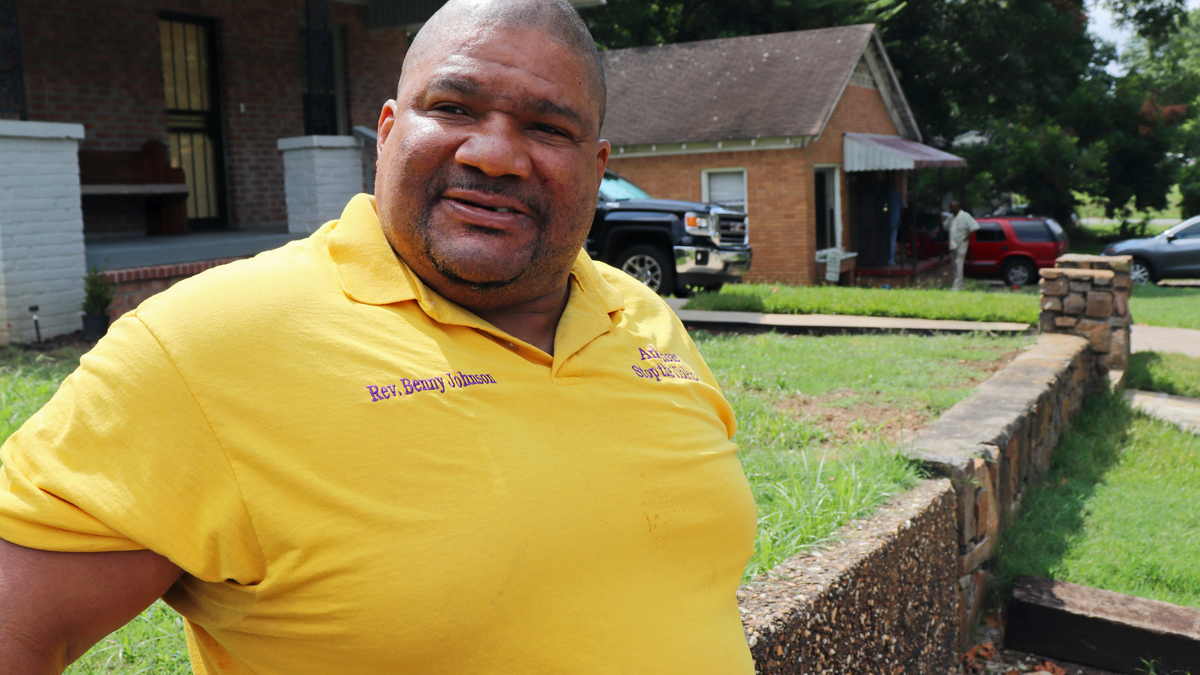 LITTLE ROCK, Ark. – Community activists watching Little Rock's homicide rate spike to a level not seen since the city's 1990s gang wars asked witnesses Tuesday to step forward after a home-invasion robbery ended with the death of a man who hours before had taken part in a backpack giveaway for school children.
Daniel Dewayne Lewis, 50, regarded as "The Mayor of Howard Street," died early Sunday. A white cross was erected in Lewis' yard Tuesday — a grim memorial held for the 39th time this year — as leaders of an anti-violence group called again for common sense.
"You've got to keep this on people's minds: We've got to turn these people in," the Rev. Benny Johnson said outside a church two doors' down from Lewis' home. "It used to be your neighbor would get on you if they saw you do something. Now people don't even know who their neighbors are."
Arkansas' capital city is on pace to reach a homicide rate not seen since police recorded 68 homicides in 1993, when territorial rivalries were so great that HBO aired a documentary titled, "Gang War: Bangin' in Little Rock."
The city totaled 42 homicides last year, or about 21 per 100,000 residents. With 39 killings already this year, Little Rock in on pace to finish 2017 with a rate of 33 homicides per 100,000 residents — the highest since 1993, when the rate was 38 per 100,000 residents, according to data from Little Rock police.
No one can agree on why the homicide rate is climbing. Some blame increased retaliation for previous crimes or gang members returning after leaving prison. Others cite tough economic conditions in the city's poorer sections.
"We have far too many people who accept this as a normal activity," said City Director Ken Richardson, who represents a part of the city east side of where Sunday's killing occurred. "The only way we're going to address this is to treat each and every homicide as an aberration. This is not normal."
Johnson, a longtime leader of the Stop the Violence movement, noted Lewis' commitment to the area — giving away school supplies, blocking off his street for neighborhood barbecues — and stressed the need for the community to help solve the crime.
"If you don't turn these people in, you're just as guilty," Johnson said.
Curtis Willis, who said he recently left prison following a robbery conviction, challenged community members to step forward to identify Lewis' killers, who have been described as two men wearing bandanas over their faces.
"For all the older guys who know the players in the street, it's time for us to come together and take control," Willis said. "It's time to teach our young men job skills and training. Let's give these youngsters something to do. Most of these crimes are happening ... because of a lack of finances."
Some in the group renewed criticism that the Little Rock Police Department works harder when the victims are white; two arrests were recently made in the July 28 killing of an Italian tourist in the city's more affluent western side.
"Out here, they patrol and control. Out there, they protect and serve," Richardson said.
Police spokesman Steve Moore said Tuesday that such talk frustrated homicide detectives.
"It doesn't matter what race, sex, sexual orientation there is. This is the worst crime there could be," he said.
No arrests have been made in Lewis' death.
___
Follow Kelly P. Kissel on Twitter at www.twitter.com/kisselAP