Latest Remains Found on N.Y. Beach Could be Victims of Another Long Island Serial Killer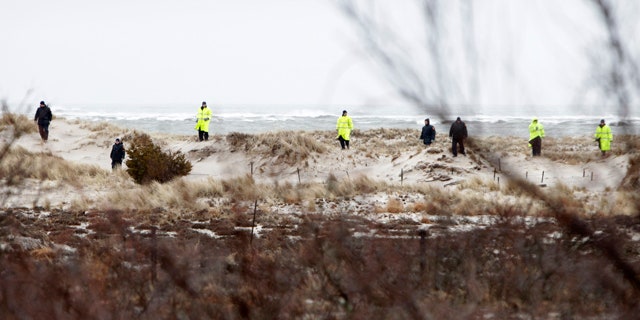 NEWYou can now listen to Fox News articles!
The latest sets of human remains found near a remote New York Beach are too old to be tied to the killings of four online escorts and may be the victims of another notorious Long Island serial killer, the New York Post reports.
Police hunting for a serial killer who strangled four prostitutes announced Tuesday that more human remains had been found this week near Jones Beach on Long Island.
But the latest remains predate the bodies of the four escorts found in December -- all in their 20s and found wrapped in burlap bags along a stretch of deserted ocean parkway, according to the newspaper.
An unnamed source told the New York Post that the remains -- reportedly a torso and human skull -- could be victims of convicted serial killer Joel Rifkin, who confessed in 1993 to killing 17 prostitutes and is serving a life sentence in upstate New York. Rifkin was convicted in nine of the deaths, but three of his victims were never found.
"These are so old that roots were growing around the vertebrae and the skull," the source told the newspaper. "These could be one or two of Joel Rifkin's victims who were never found."
Authorities plan to continue their search Wednesday for more victims of a possible serial killer. A total of 10 sets of human remains have been found. The four bodies discovered in December were identified as prostitutes who advertised on Craigslist. Police in Suffolk County found 4 more sets of human remains in the last two weeks -- one reportedly believed to be a child -- but those bodies have not yet been identified.
Police divers plan to concentrate their search on Hemlock Cove Wednesday, and Suffolk County Police Commissioner Richard Dormer is planning an afternoon media briefing on the investigation.
Police say evidence suggests that whomever dumped the four bodies discovered in December is knowledgeable of police investigative tactics and familiar with the area of Long Island where the bodies were found, according to multiple press reports. Authorities are reportedly considering that a former cop may be behind the killings.
The person believed to be the killer made taunting phone calls to the teen sister of victim Melissa Barthelemy shortly after she disappeared in July 2009. The calls were difficult for police to investigate because they were all under three minutes and made from crowded places, like Madison Square Garden and Times Square.
An official with the Suffolk County Police Department would not confirm to FoxNews.com that authorities are eyeing an ex-cop in the investigation.
"We haven't said if we think it's someone in law enforcement," the official said.
The disappearance of 24-year-old New Jersey resident and Craigslist escort Shannan Gilbert led investigators to the Suffolk County beach spot late last year.
None of the found victims, however, is Gilbert, whose case remains open.
A Suffolk County investigator who declined to be identified because of the ongoing case told The Associated Press that detectives are taking a methodical approach to finding the suspect, poring over credit card records of the victims to track their movements and where they spent their money in the area.
Cell phone calls made by the women are also being tracked, and computer records of their communications and appointment records have also been viewed.
FoxNews.com's Cristina Corbin and The Associated Press contributed to this report.