Latest: Firefighters brace for return of California winds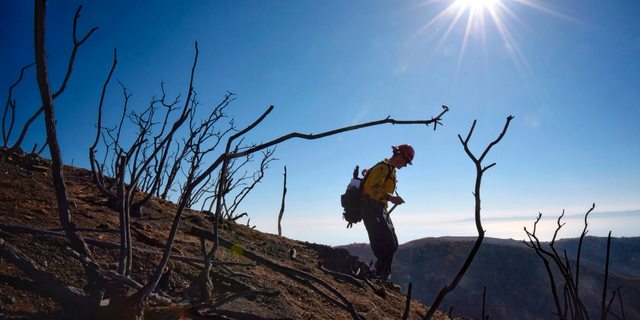 LOS ANGELES – The Latest on California wildfires (all times local):
2:30 p.m.
Crews battling Southern California's enormous wildfire are struggling to widen and extend firebreaks before the return of winds that could once again drive the flames out of control.
Forecasts call for 20- to 30-mph (40-48 kph) winds with gusts to 60 mph (97 kph) by Wednesday evening in the coastal mountains northeast of Los Angeles.
That will end a three-day lull that allowed firefighters to contain about 60 percent of the Thomas fire, which is burning in Ventura and Santa Barbara counties.
Since it began on Dec. 4, the wind-whipped blaze has burned hundreds of homes and is blamed for the deaths of a firefighter and an evacuee.
The fire is the second-largest in 85 years of recorded California history. It's expected to become the largest as flames continue to eat into forest land.
___
5:30 a.m.
After a two-day lull in powerful winds that drove Southern California's massive wildfire, crews are bracing for the return of potentially dangerous gusts that could revive the flames.
Crews used the calm conditions to build containment lines and set controlled fires to clear dry brush ahead of so-called sundowner winds expected to whip up Wednesday afternoon.
The blaze that's burned for more than two weeks northwest of Los Angeles is 55 percent contained and now the second-largest in California history. Officials say the new winds could cause it to grow into the state's biggest fire ever.
More evacuations were lifted Tuesday, but communities remain threatened in Ventura and Santa Barbara counties.
A firefighter and a fleeing civilian have died in the Thomas fire that broke out on Dec. 4.