Las Vegas shooting victims file more lawsuits, press for answers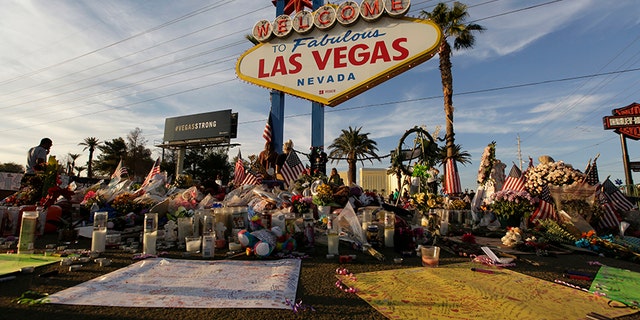 Lawsuits related to the Las Vegas massacre are mounting, as 14 more concertgoers have initiated legal action -- including one victim who was so traumatized after the attack she said she's mistaken the sound of rain for Stephen Paddock's deadly gunfire.
The Mandalay Bay Resort and Casino -- the perch from where Paddock fired -- organizers of the country concert Paddock fired on and the makers and sellers of a bump stock gun accessory that enabled Paddock to rapidly shoot are all named as defendants in the lawsuits filed in Las Vegas state court Wednesday on behalf of the 14 concertgoers.
"I don't sleep at night and, when I do, I have nightmares," Elisha Seng, a 46-year-old from Bartlett, Ill., told The Associated Press. She said she even jumped up from her bed once as it was raining.
"I thought it was gunshots," she said, adding she can't erase the mental images of bullets landing around her on the concert grounds -- and of turning to see a young woman covered in blood after being shot, clutching her throat and falling forward.
Seng, who wasn't physically injured, returned to work as a sales representative, but said she quickly tires from her lack of sleep. Going to concert or sports halls can prompt flashbacks. She recently attended a Chicago Blackhawks game and found herself nervously calculating the best escape routes should someone open fire.
JASON ALDEAN DETAILS EARLY MOMENTS OF THE LAS VEGAS SHOOTING FOR THE FIRST TIME
Michelle Simpson Tuegel, an attorney representing victim Paige Gasper, a 21-year-old college student who was left with shattered ribs and a lacerated liver after being shot in the massacre, told Fox News it "is going to be a long road for all of these survivors, both physically and emotionally."
"I think that's hard for these survivors…and the people [killed in the recent church shooting] in Texas will have some of the same roads to deal with, with their trauma," she said.
Tuegel told Fox News in October that Gasper's family "wants answers" from festival organizers and hotel management.
A lead attorney in the lawsuits, Chicago-based Antonio Romanucci, echoed that call Wednesday.
"We want to get access to documents and discovery that either MGM or Live Nation has in their possession so we can determine how these events can be prevented."
"These people need answers and are looking for closure and the only way we can get closure is by filing lawsuits and getting information," Romanucci told FOX5 Las Vegas.
The Las Vegas Metropolitan Police Department and the FBI, who are handling the investigation, have been unusually tight-lipped since the attack, barely speaking to the media in recent weeks.
The 14 civil complaints follow at least three others, one of which is Gasper's, filed since Paddock killed 58 people and injured hundreds of others. The lawsuits seeks unspecific compensation for both "physical and mental injuries," The Associated Press reported.
The challenge for mass-shooting lawsuits is clearing a high legal bar to prove someone other than the shooter bears any responsibility. Such litigation typically drags on for years and can end with victims and their families receiving little to no money, according to The Associated Press.
A Chicago law firm helped to prepare the filings for the plaintiffs, which include several people from the Chicago area. Victims named in the suits also include a California man, Anthony Crisci, who was rushed to a hospital with a gunshot wound in a truck crowded with other victims.
Among deficiencies at the concert venue were poorly marked exits, Wednesday's filings say. And the hotel, it says, should have had gunfire-location devices that pinpoint where shots are coming from.
The 64-year-old Paddock, who killed himself just before his room was stormed, is also named in a bid to seize assets from his estate.
'VEGAS STRONG' F-15 FIGHTER JET DEBUTS AT NEVADA AIR SHOW
Paddock was able to use VIP status conferred on him as a high-stakes gambler to stockpile more than 20 rifles in his hotel suite without notice, including by using exclusive access to a service elevator over several days, the filings say. Lawyers argue what should have been routine checks of Paddock's bags and his room would have revealed his growing arsenal.
The filings also name a leading bump stock maker, Texas-based Slide Fire Solutions, as a defendant. Romanucci said it wasn't yet clear which manufacturer, wholesaler or retailer made and sold the specific bump stock that Paddock used, but the idea was to hold "the entire supply chain" responsible. Messages from The Associated Press seeking comment from Slide Fire weren't returned.
"We want to get access to documents and discovery that either MGM or Live Nation has in their possession so we can determine how these events can be prevented, specifically this one," Romanucci told FOX5 Las Vegas.
MGM Resorts International, the parent company of Mandalay Bay, called the shooting "a meticulously planned, evil...act" in a statement Wednesday to The Associated Press and added it would respond to any allegations only through "the appropriate legal channels." Live Nation, a concert organizer named in the filings, said in a statement it cannot comment on pending litigation, but noted the company remains "heartbroken for the victims."
Bump stocks were originally created ostensibly to make it easier for people with disabilities to shoot. But the filings allege Slide Fire geared its marketing to regular gun owners who wanted their semi-automatic rifles to mimic fully automatic weapons.
Seng said she joined the civil case to force better security at concerts and at hotels. She said she can't fathom how a hotel-casino that devotes so many resources to catching gamblers that cheat didn't notice Paddock bringing in high-powered weapons over a number of days.
"They can catch a person counting cards," she said. "But they can't catch someone carrying bags of guns."
The Associated Press contributed to this report.