Las Vegas shooting: Timeline of events
A gunman inside a Las Vegas casino killed at least 58 people at a nearby country music festival in a late Sunday night shooting, officials said.
More than 480 others were hurt in the massacre, called the deadliest mass shooting in modern U.S. history, according to police.
Here's a look at how the incident unfolded - and what authorities are currently investigating.
Thursday, September 28 
Suspected gunman Stephen Paddock checks into the Mandalay Bay Hotel and Casino in Las Vegas.
Sunday, October 1
9:40 p.m.
Country music star Jason Aldean starts his performance at the Route 91 Harvest Festival in front of a crowd of more than 22,000 in Las Vegas.
10:05 p.m.
This is when Paddock begins to fire, the Las Vegas Metropolitan Police Department says Wednesday.
10:08 p.m.
"I see the shots coming from Mandalay Bay, halfway up!" someone says in police scanner audio published by Broadcastify.
10:12 p.m.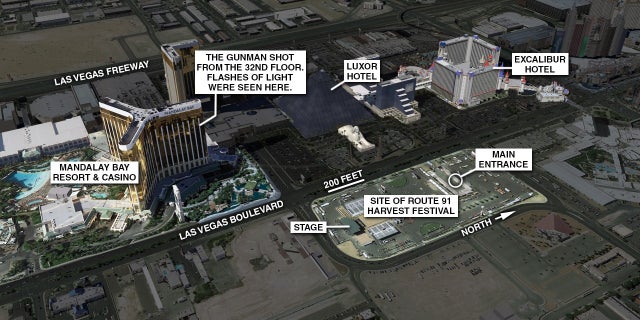 Two officers reach the 31st floor of the casino "and announce the gunfire is coming from directly above them," Las Vegas police later say on Wednesday.
10:15 p.m.
Paddock fires his final shots, police say Wednesday.
10:17 p.m.
This is when two officers get to the 32nd floor, where Paddock was, according to the police timeline.
10:18 p.m
A security guard says he's been shot and tells them where Paddock's room is, police say Wednesday.
10:20 p.m.
"It's been awhile since we've heard any shots," someone says in a transmission, The New York Times reports. "Does anybody have eyes on the shooter?"
10:26 p.m. - 10:30 p.m.
This, police later say, is when eight more officers show up "and begin to move systematically down the hallway, clearing every room and looking for any injured people."
10:38 p.m.
"We're investigating reports of an active shooter near/around Mandalay Bay Casino," police tweet. "Asking everyone to please avoid the area."
11 p.m.
Part of the Las Vegas Strip is shut down, authorities tweet.
11:20 p.m.
Authorities use a device to breach a Mandalay Bay room.
"They observed the suspect down on the ground and also saw a second door that could be not accessed from their position," police later say Wednesday.
11:27 p.m.
A second breach goes off.
"Officers quickly realized there was no one else in the rooms and announced over the radio that the suspect was down," according to authorities.
11:58 p.m.
"Confirming that one suspect is down," Las Vegas police tweet. "This is an active investigation. Again, please do not head down to the Strip at this time."
Monday, October 2
12:21 a.m.
"At this time we do not believe there are any more shooters," Las Vegas police tweet.
1:40 a.m.
Officers confronted the suspect on the 32nd floor of the Mandalay Bay Hotel, Lombardo says early Monday morning. Authorities say the man is dead. They don't release the suspect's name but say he is a local resident.
The death toll stands at more than 20 dead and 100 injured.
1:57 a.m.
Las Vegas authorities tweet they are looking for two vehicles associated with the gunman.
2:22 a.m.
Las Vegas police tweet a photo of Marilou Danley, believed to be Paddock's partner, saying that they are looking for her.
3:30 a.m.
At least 50 people are said to be dead, with more than 200 injured.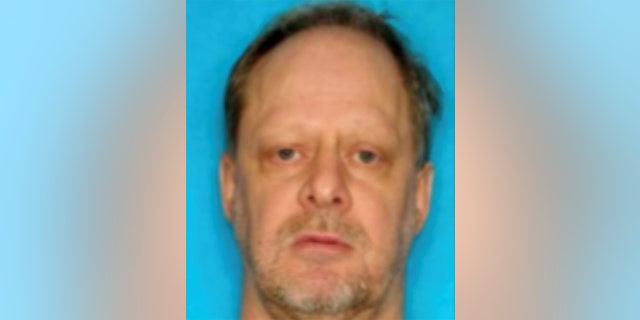 Authorities have identified Paddock as the suspected shooter. They also say they have located Danley.
"We have located the vehicles in question, and we are confident we have located the female person of interest," Las Vegas police tweet at 3:37 a.m.
"Marilou Danley is no longer being sought out as a person of interest," the Las Vegas Metropolitan Police Department said in an Atlanta Journal-Constitution report published later Monday morning. "LVMPD detectives have made contact with her and do not believe she is involved with the shooting on the strip."
4:11 a.m.
"My warmest condolences and sympathies to the victims and families of the terrible Las Vegas shooting," President Donald Trump tweets. "God bless you!"
4:30 a.m.
"Two on-duty LVMPD officers were injured during the shooting," police tweet. "One is in stable condition after surgery and the other sustained minor injuries."
5:33 a.m.
Las Vegas police tweet a press release which says a SWAT team found Paddock dead in a hotel room at the Mandalay Bay. They say that 50 people are dead and 406 others are hurt.
Police say in the release that an off-duty officer is among the dead.
8:44 a.m.
The death toll reaches 58 with 515 others hurt, Lombardo says.
3:05 p.m.
The death toll moves to 59 — including the shooter — with 527 others injured, law enforcement officials say at an afternoon press conference.
8:50 p.m.
The estimated number of people injured is reduced to 516, according to a news release by the Las Vegas Metropolitan Police Department. The death toll remains at 59.
10:00 p.m.
During a news conference, officials say the number of those injured was 527, despite a previous press release.
Tuesday, October 3 
Tuesday afternoon
During a 1 p.m. news conference, authorities say Paddock set up cameras inside and outside the hotel room where he opened fire. They also say that Paddock put a camera in a food service cart outside his hotel room.
Lombardo also says that Danley is once again a person of interest.
Late Tuesday evening
Danley, who had been in the Philippines, comes back to the United States.
Wednesday, October 4 
Wednesday morning
Trump and first lady Melania Trump arrive in Las Vegas, where they meet with Lombardo and others. Later in the morning, they go to the University Medical Center of Southern Nevada, where they meet with victims.
Wednesday afternoon
Trump speaks at Las Vegas Metropolitan Police Headquarters, and tells law enforcement that they should be proud of the way they responded to the mass shooting.
Wednesday evening
The number of those injured was 489, Lombardo says.
"Of that 489, 317 have been discharged from the hospital," he says.
The Associated Press contributed to this report.