Las Vegas shooting details still murky as Mandalay Bay ordered to keep evidence
What happened in Vegas seems to be staying in Vegas.
Nearly three weeks after the deadliest mass shooting in modern U.S. history, the release of details surrounding the horrific attack has slowed from a trickle to a standstill: police have yet to schedule another news conference, confusion continues to surround the gunman's motive and critical questions linger about what exactly happened on the 32nd floor of the Mandalay Bay Resort and Casino.
The president of the union representing Jesus Campos – a security officer at the hotel who was shot during the attack and who became the subject of intense public interest after bailing on scheduled TV interviews last week – also told Fox News he has "no idea" whether or not Campos will return to work at Mandalay Bay.
And inside and outside the opulent resort and casino, the crime scene remained frozen in time Friday, as the Las Vegas enterprise was ordered by a judge to not destroy anything that could be considered evidence in a trial -- right down to the broken glass from gunman Stephen Paddock's suite.
"What our client is saying and what the community and the nation is saying is shifting timelines, witnesses missing...it just creates this general sense of unease, people just don't feel safe," attorney Brian Nettles, who is representing shooting victim Rachel Sheppard, told KSNV.
The preservation order from Judge Mark Denton, which was issued Thursday, blocks Mandalay Bay from erasing video surveillance, card swipe data and complaints coming from Paddock's hotel suite – among other items – until another hearing on Oct. 30 where MGM Resorts International will have a chance to argue against it.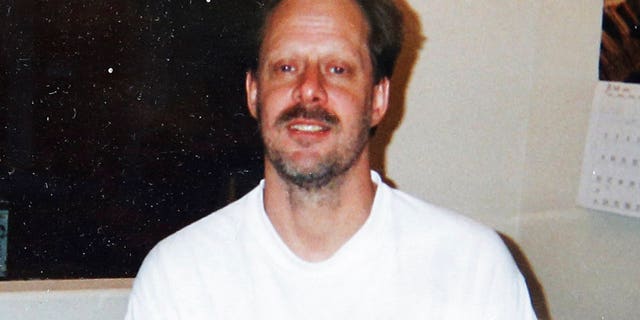 "This was a terrible tragedy perpetrated by an evil man. We have no intention of renting that room," the company said in a statement following the order. "We've been cooperating with law enforcement from the moment this happened, which includes preserving evidence."
COUNTRY MUSIC STARS HONOR LAS VEGAS SHOOTING VICTIMS AT CONCERTS
Opposite Mandalay Bay, pictures of the festival grounds taken by KSNV this week show little has changed since the Oct. 1 attack, where 58 people attending a country music concert were gunned down by Paddock from his room. Nearly 500 others were wounded.
"This weekend!" reads a billboard on the festival grounds, surrounded by fences and yellow crime scene tape. Across the street, a black #VegasStrong banner is hanging from the top of the Mandalay Bay resort -- its golden facade glimmering in the sunlight -- with the two boarded up windows Paddock took aim from noticeably standing out.
Campos, who was shot in the leg by Paddock while investigating an alarm on his floor, appeared on Ellen DeGeneres' show this week alongside Stephen Schuck, a hotel maintenance worker who credits Campos for saving his life.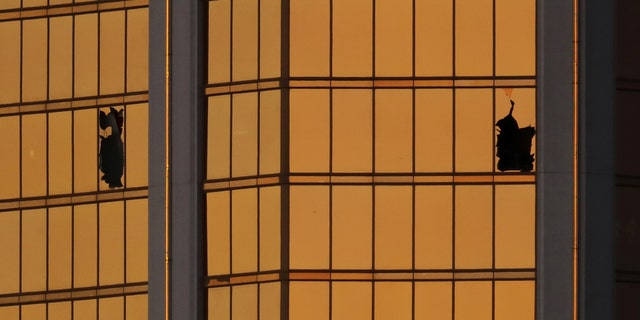 But the host did little to clear up the plethora of unanswered questions about Paddock and response to the shooting, including what caused Paddock to stop firing before authorities ever gained entry to his room, where Paddock was found dead from a self-inflicted gunshot wound.
"If you watch the entire show, the venue is not where I would have put these two heroes to tell their story," David Hickey, president of the International Union, Security, Police and Fire Professionals of America, told Fox News. "I'm not criticizing Mr. Campos and his decision, since he has been through a horrendous event, but what I was saying is it's not the venue I would have chosen or recommended."
Hickey said he and Campos met with MGM's corporate team last week before a series of scheduled television interviews, including one with Fox News' Sean Hannity, which the security officer had agreed to do.
"They said they were concerned about pressure that would be put on Mr. Campos by someone like Sean Hannity," Hickey told Fox News.
FULL COVERAGE OF LAS VEGAS SHOOTING
He added the casino giant's executives cited worries about Campos' "health" and expressed concern about the "stress" of appearing on five shows.
"I felt like this was a time that Mr. Campos should be made comfortable and confident to do something he had never done before, to speak on air and to do it live," Hickey said.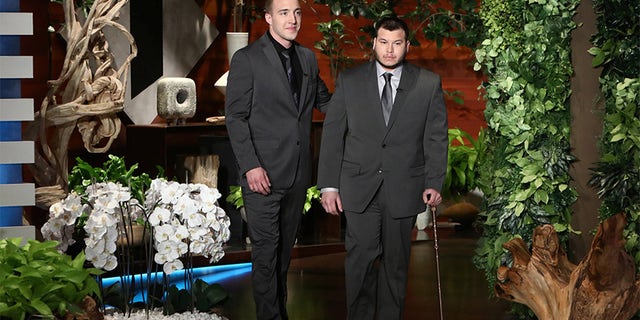 The meeting ended with Campos slipping out while Hickey was in another room and disappearing from the public spotlight for days. Campos resurfaced on television Wednesday for the pre-recorded interview, despite saying last week that he wanted to tell his story and move on, Hickey said.
The union president said the "officers at Mandalay Bay," such as Campos, are the ones who haven't been recognized enough in the wake of the attack.
"You can't work an emergency situation like that and not be under a great deal of stress," he said.