Las Vegas sheriff frustrated by data discrepancies, unanswered questions
Nearly two weeks after a gunman unleashed one of the deadliest mass shootings in modern U.S. history, authorities in Las Vegas are still left with more questions than answers.
Sheriff Joseph Lombardo, head of the Las Vegas Metropolitan Police Department, expressed his own frustrations with the investigation, but said he remained determined to keeping the public informed.
"It's important for people to know what I know, when I know it. Just to calm the public," Lombardo told the Las Vegas Review-Journal.
Perhaps the biggest question of all: What motivated gunman Stephen Paddock, 64, to open fire on 22,000 concertgoers, ultimately killing 58 and wounding hundreds more.
Lombardo touched on the lack of information regarding Paddock's motive.
"You immediately think you're gonna know the reasons why in the short term," he said. "Now, here we are a week after the fact, and we still don't know."
Varying accounts of the timeline from that Oct. 1 evening have left the public even further in the dark.
On Monday, Lombardo issued a revised timeline of events, stating that Paddock shot and wounded a Mandalay Bay hotel security guard, firing around 200 bullets outside his hotel room door, only six minutes before he opened fire on the crowd below.
This account was much different from the version offered last week. According to that initial timeline, Paddock shot the security guard, Jesus Campos, after he finished firing at the crowd.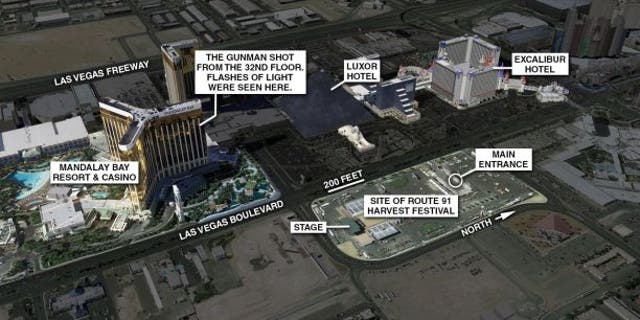 However, a Thursday statement by MGM Resorts international, owner of the Mandalay Bay hotel, disputes even the most recent police timeline.
The casino company said that shots were fired into the festival crowd "at the same time as, or within 40 seconds after" Campos was fired upon.
Based on when the shots were first reported over hotel dispatch radio, MGM claims that the police account of gunfire breaking out 6 minutes later is inaccurate.
Despite there being so many discrepancies over when the gunman opened fire, it is inevitable that details will change again.
Dan Oates, who was chief of police in Aurora, Colo., when the infamous movie theater shooting happened there in 2012, told the Review-Journal that such changes are expected.
"Given the scale and complexity, as a police professional, I'm not particularly troubled if some early facts shift."
Investigators were working hard to pin down an exact timeline of events and figure out what drove Paddock over the edge.
The Associated Press contributed to this report.