Las Vegas police release terrifying footage of apparent kidnapping, arrest suspect
Police in Las Vegas have arrested a man in connection with a video showing a young woman pleading for help at a stranger's door before being kidnapped shortly after midnight on New Year's Day.
Darnell Rodgers, 23, was arrested in Las Vegas. He's been charged with kidnapping and domestic battery, Fox 5 reported.
The Las Vegas Metropolitan Police Department released doorbell footage from a home taken around 12:48 a.m. that showed an apparent kidnapping.
An unidentified woman, around 20-30 years old, ran to a house where she banged on the door and screamed after stating the suspect's name. Directly behind her, a man around the same age got out of a white Hyundai Sonata and charged toward her.
CHICAGO WOMAN JUMPS OUT 11TH FLOOR WINDOW WITH SON, 1, AFTER STABBING HER FATHER: REPORT 
He could be seen pulling her from the door and throwing her to the ground before violently kicking her.
"Why would you f---ing do that?" he yelled out. "Get in the car! Get in the car!"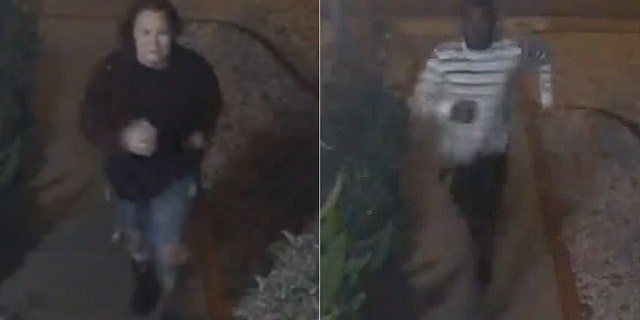 He grabbed the woman by her hair and dragged her into the car before it left.
Cpt. Dennis O'Brien told reporters Thursday that the owner of the home -- who had no relationship to the man and woman -- alerted police after seeing the footage remotely.
Investigators tracked down the suspect by going through every service call in the Las Vegas valley to see whether a description matched the man or woman seen in the doorbell footage, O'Brien said. They eventually received a call that matched the name and description of the suspect and arrested him at a home early Thursday, O'Brien said.
Police reported that the woman has been found and was safe. Rodgers was being held at the Clark County jail.
O'Brien said the man and woman had a one-month-old child who was in the car at the time of the incident. The child was the custody of Child Protective Services, he said.
CLICK HERE TO GET THE FOX NEWS APP
"This is an absolutely violent crime. Domestic violence is one of the most horrific crimes that we can deal with on a daily basis," O'Brien said. "It's important that the public reach out, that these surveillance systems are so helpful for us in following up and countering the crimes to combat these violent crimes in nature."
The reasons for their dispute were unclear. Police were continuing to investigate.