Las Vegas massacre: One survivor's harrowing story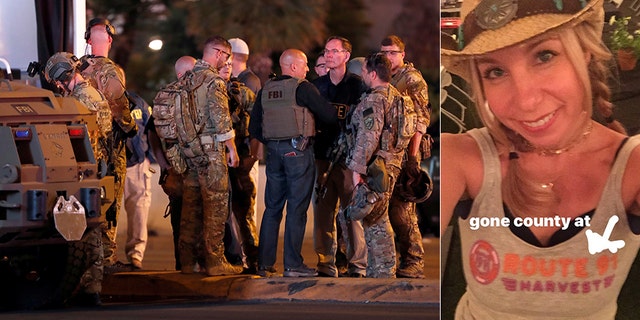 When Los Angeles-based publicist relations and marketing professional Jennifer Birn joined thousands to watch Jason Aldean perform at the Route 91 Harvest Festival in Las Vegas, it was the stuff of dreams.
But in the space of just a few moments, the Las Vegas concert turned from the stuff of dreams into the stuff of nightmares.
"We thought it was fireworks, or a helicopter or pyrotechnics at first," Birn told Fox News, recalling the first moments when the shots ripped through the crowd. "No one moved. Then Jason was rushed off the stage and everything went dark. We thought maybe there was a sound issue, and then the screaming and running in every direction began."
Just before the massacre unfolded, Birn and two friends had been standing in the exact spot, three-deep from the stage, watching country star Jake Owen. They moved nearby to the Malibu Rum pop-up location to retrieve some coconut water and decided that even though the view was worse on the side platform, they decided they didn't feel like getting back into the "claustrophobic" crowd.
It may have spared their lives.
"It was the scariest night of my life, but somehow I got off a platform, slipped through a fence and ran to a hotel casino amid what sounded like never-ending gunfire following us," Birn said. "My meniscus is torn in multiple places and I have virtually no cartilage in my injured knee, but I ran like my life depended on it, because it did, not feeling anything or thinking anything other than. I didn't want to get shot. We're stronger than we think we are."
She remembered seeing a police car but choosing not to run toward it in case the shooter was seeking to target law enforcement. Instead, she headed through a fence in the direction away from the shooter's location at Mandalay Bay and into the garage at the nearby Hooters casino.
"I still find it hard to believe there was just one shooter. It sounded like at least ten, and it sounded as though it was getting louder and closer even though we were running away from the scene. We couldn't turn around, we couldn't stop," Birn noted.
LAS VEGAS SHOOTING: KILLER BOUGHT MORE THAN 30 WEAPONS, SOURCE SAYS
Eventually Birn, separated from her friends amid the calamity, thought she was safe on the Hooters casino floor when suddenly people flooded in and said the shooter was there, escalating the hysteria in the casino. After hiding under a blackjack table for a little while, she crawled across the casino floor to a stairwell and hid in a bathroom with two other girls – pushing barricades against the door – for almost an hour. A voice then came to the door and told them to come out, saying police were there to escort them back to their hotels safely.
"That turned out not to be true," Birn noted. "Downstairs, it was all just blood and chaos."
Hooters, she said, closed the bar but handed out water bottles and blankets as ambulances arrived to take people injured to a hospital. Friends were not allowed to accompany them, amplifying the fear and mayhem of the moment.
LAS VEGAS SHOOTER WAS RETIRED, HAD NO CRIMINAL RECORD
Not being allowed to return to the apparent safety of the bathroom, Birn said that she left the hotel and a camera crew took her back to her nearby hotel at around 2:30 a.m., more than three hours after the slaughter started. One friend had returned to their room earlier; as she ran from the scene a random SUV stopped and offered to drive her away from the madness, but gunshot-wounded victims piled in too, covering her in blood. The SUV driver immediately took the victims to the hospital before ferrying others home.
Another friend returned to the room a little after Birn, having hid in a trash bin with others who had been shot.
Birn made it to her 7:40 a.m. return flight to Los Angeles, where she said there seemed to be surprisingly little security: They didn't have to take out their laptops or remove their shoes. But the flight was a somber one, filled with the tired and the traumatized.
The gunman, identified as a retired 64-year-old Nevada man named Stephen Paddock who ultimately turned a gun on himself, opened fire on the concert from the 32nd floor of the Mandalay Bay Resort and Casino, killing at least 59 people in what is now classified as the deadliest mass shooting in modern U.S. history.
"So many people here, at one casino, have a friend or someone who was near them who was shot," Birn added. "I am so grateful my friends and I are leaving Las Vegas uninjured, while my heart breaks for those who weren't as lucky, and that this is the world we now live in."