Las Vegas massacre documents detail chaotic scene, police response
NEWYou can now listen to Fox News articles!
The Las Vegas Metro Police Department's release of more than 2,000 documents Wednesday revealed the chaos and confusion surrounding the massacre at the Route 91 Harvest Festival in October.
Stephen Paddock killed 58 people and left hundreds more wounded as he rained down gunfire from the 32nd floor of the Mandalay Bay Hotel on Oct. 1. The documents detailed the immediate response from officers, some of whom were already at the festival and others in the general area.
At least 50 police officers were already at the concert venue as bullets sprayed the grounds, police documents showed. Those in patrol cars and others out in their neighborhoods exercising quickly converged onto the strip.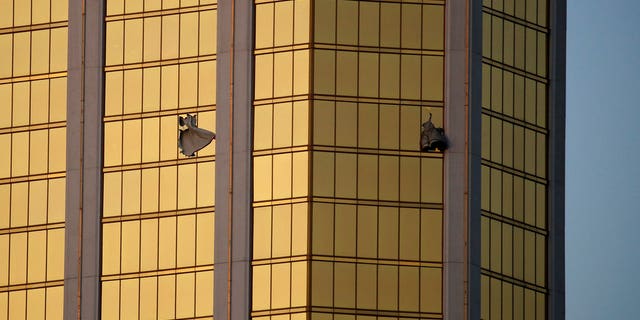 Police Lt. Kenny Delzer organized helicopter operations and used a Harley Davidson store as its base for staging operations. Delzer said he called in a second helicopter "in anticipation of a secondary attack."
The Harley Davidson shop is located about three miles east of the Mandalay Bay Hotel. Videos of what appeared to be the tactical team on site fueled conspiracies online about there being more than one shooter that night.
One concertgoer told police she didn't realize the police choppers were there to help her.
"It was total confusion," the unidentified woman said. "At this point I thought the shots were coming from a helicopter not the Mandalay Bay. A helicopter (which turned out to be a Metro chopper) flew over and I panicked thinking we were going to get shot at."
Meanwhile, other officers formed strike teams and responded to false reports of active shooters inside multiple hotels on the strip, including the Aria, Bellagio, Caesars Palace, Circus Circus, New York-New York, Paris Las Vegas and Tropicana.
At Caesars, a report of an armed man turned out to be a plainclothes security officer, while the president of security at Bellagio, who was reportedly seen with a tactical vest and rifle, was also being sought, documents showed.
Police even detained one person at Bally's Casino who claimed to have knowledge about the active shooter. Police determined he was just stating his opinion and appeared to be mentally ill.
"At this time we began to realize the new calls of shooters were either diversions to get police to spread out or it was citizens calling in plain clothed officers," one Vegas officer said.
At Mandalay Bay, there was a sense of calmness. A responding officer said they found the lobby of the shooting site relaxed.
"At this point I thought the shots were coming from a helicopter not the Mandalay Bay."
"I saw that no one had any idea of what was happening outside," the officer reported. "No one ran or hid. It was eerie calm, business as usual as if nothing had happened."
Wednesday's documents were the most detailed of any released so far in the investigation into the shooting. Police had released body cam footage and witness accounts earlier this month.
Fox News' Andrew Craft contributed to this report.