Las Vegas guard Jesus Campos tells Ellen DeGeneres: 'I felt a burning sensation' when I was shot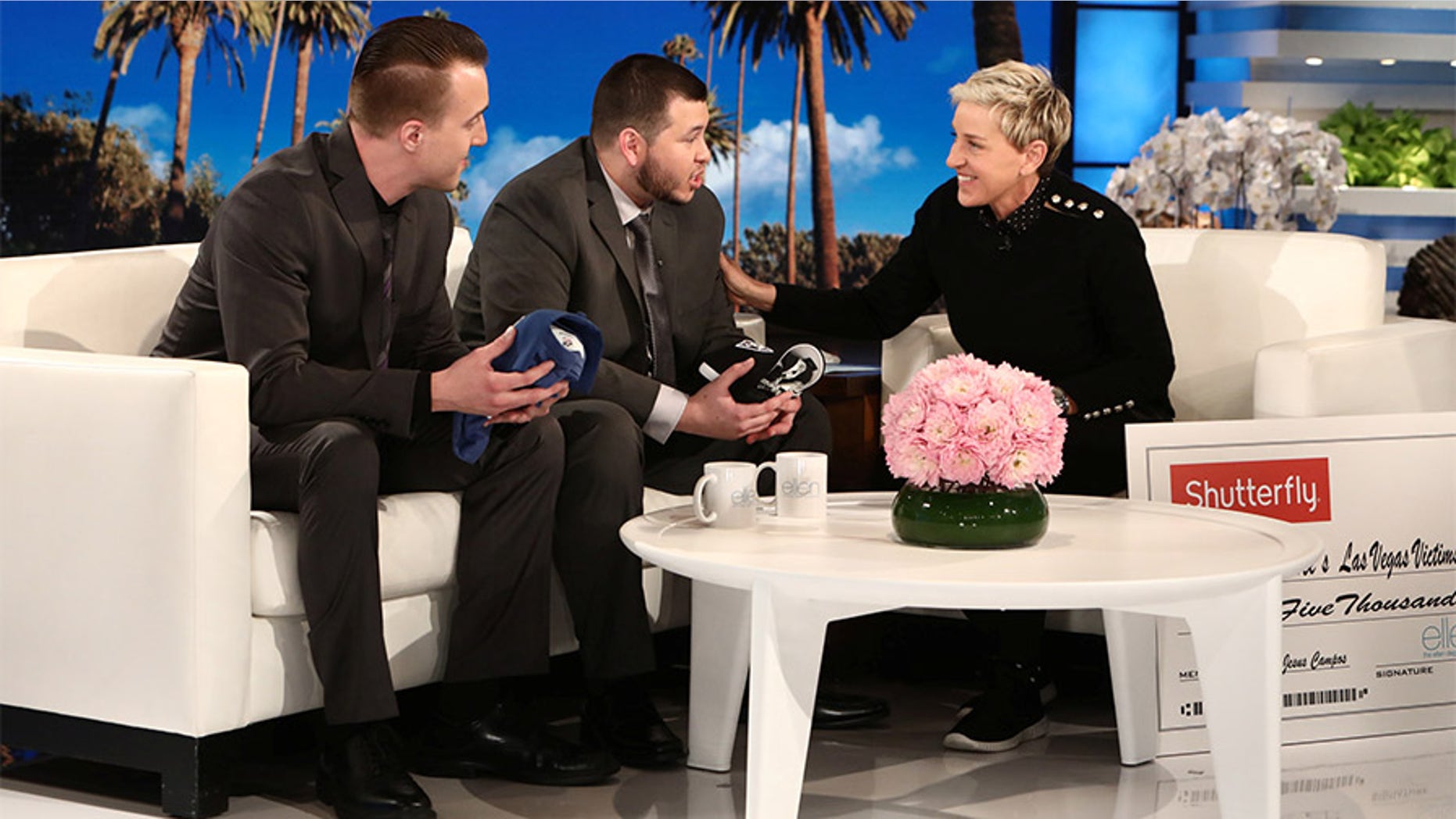 The Mandalay Bay security guard who briefly disappeared from the public eye broke his silence on "The Ellen DeGeneres Show" Wednesday, describing how he was wounded by the perpetrator of the deadliest mass shooting in U.S. history.
Jesus Campos told DeGeneres in a pre-recorded interview that he had been called to the 32nd floor of the hotel on the night of Oct. 1 to investigate an open door alarm. He said he tried to access the floor from a stairwell next to gunman Stephen Paddock's hotel room, but was blocked by a bolted emergency exit door.
"There was a metal bracket holding the door in place," said Campos, who described it as "just out of the ordinary. It's not normal."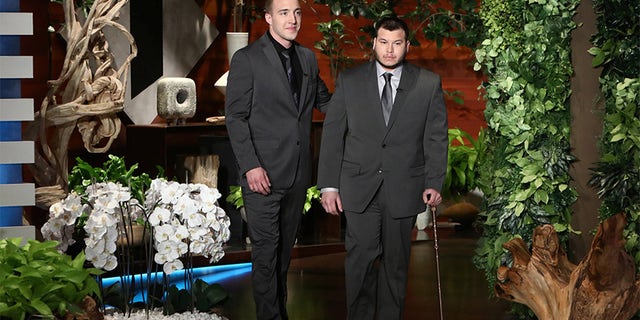 Campos said he reached the floor through another stairwell and inspected the metal bracket from the other side. As he walked back into the hallway from a room that leads to the stairwell, the door made a loud noise as it closed behind him.
"I believed that's what caught the shooter's attention," Campos said. "As I was walking down, I heard rapid fire. At first I took cover. I felt a burning sensation. I went to go lift my pant leg up and I saw the blood. That's when I called it in on my radio that shots had been fired."
"I felt a burning sensation. I went to go lift my pant leg up and I saw the blood."
Mandalay Bay engineer Stephen Schuck, who went to the 32nd floor to look at the door Campos had called about, told DeGeneres that he initially thought he was hearing jackhammers when the gunfire began.
"As an engineer, I thought, 'we are not working up here late at night. We wouldn't be doing that,'" said Schuck, who added that the wounded Campos yelled at him to take cover as bullets whizzed past his head.
"Within milliseconds, if he didn't say that, I would have got hit," the engineer said.

Campos added that a woman poked her head out of her room to see what was going on, but he told her to go back inside.
Campos had canceled several scheduled TV interviews last week and his appearance Wednesday did nothing to quell rampant speculation and rumors surrounding the horrific attack.
DeGeneres praised Campos for saving the life of Schuck and the unidentified woman, and noted that her interview would be the only time the guard would discuss the shooting publicly.
Nearly three weeks since Paddock killed 58 people and wounded more than 500 others, the FBI and Las Vegas Police have yet to reveal a motive for the shooting and questions remain about the timeline of events -- which have become muddled after police and the owners of Mandalay Bay gave conflicting statements.
Campos drew intense attention when police hailed him as a hero just after the shooting, saying he unwittingly stopped the massacre by arriving in the hallway.
The police timeline changed dramatically a week later, when authorities said Campos reported being wounded at 9:59 p.m. — six minutes before people in the concert crowd reported shots.
The timeline of the massacre changed again last Friday, when Clark County Sheriff Joe Lombardo said Campos had been dispatched to the 32nd floor at 9:59 p.m. and was wounded in the hallway less than a minute before the massacre started at 10:05 p.m.
Schuck's account in the DeGeneres interview seemed to support that chronology.
He told Campos in the interview that the guard saved Schuck's life, and DeGeneres credited Campos with also warning a woman who started to come out of her room to get back inside.
"Shortly after that is when Stephen (Schuck) was approaching, and I told him to stay back and get cover, and that's when more rounds were dispersed," Campos said.
His interview came after the last-minute cancellation of a scheduled live interview with Fox host Sean Hannity last Thursday, said David Hickey, president of Security, Police and Fire Professionals of America.
Campos then dropped from public view, said Hickey, who had been involved in booking the appearance.

"We're more than pleased that he's resurfaced and appears to be in good health," Hickey said. "If he comes back as a security officer at Mandalay Bay, we'll see him again. If not, we wish him the best."

The Associated Press contributed to this report.