Larry Nassar almost attacked by victim's father in dramatic courtroom scene
The father of three Larry Nassar sex assault victims won't be charged after he lunged at the disgraced doctor in a Michigan courtroom Friday, just moments after yelling he wanted "one minute with that b------!"
After two of his daughters spoke, the father, Randall Margraves, asked the judge to grant him "five minutes in a locked room with this demon." The judge denied the request, so the man asked for one minute and then lunged at Nassar.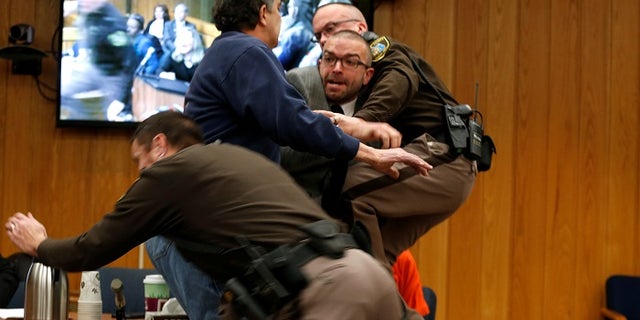 Court officers almost immediately subdued the man and he was not able to reach Nassar, who is accused of abusing hundreds of young girls.
"I want that son of a b----! Give me one minute with that b------!" Margraves yelled as he was handcuffed.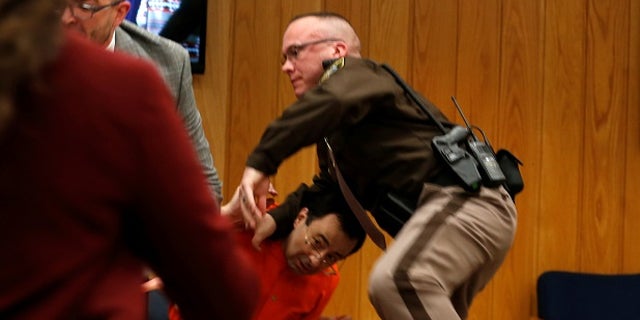 Two of Margraves' daughters gave statements to the court and said their other sister had also been molested by Nassar. Crying could be heard in the courtroom as Nassar was escorted out. Assistant Attorney General Angela Povilaitis told families in the courtroom to "use your words" and that violence "is not helping your children."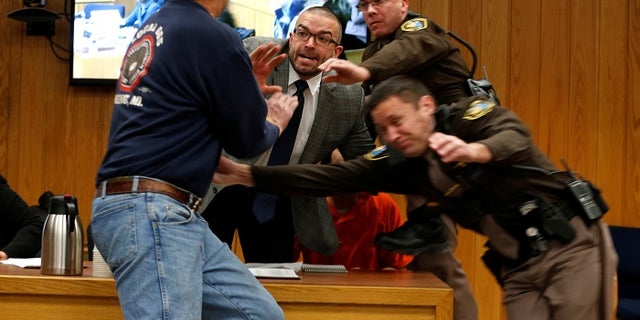 ATTORNEY GENERAL ANNOUNCES PROBE INTO MICHIGAN STATE UNIVERSITY'S HANDLING OF LARRY NASSAR SEX ABUSE CLAIMS
A few hours following the incident, Margraves apologized to the courtroom and told Judge Janice Cunningham, "I lost control." The judge said there was "no way" she would punish the father.
Cunningham said a punishment isn't appropriate based on the crimes committed by Nassar and the anguish felt by families. But she also says it's wrong to "combat assault with assault."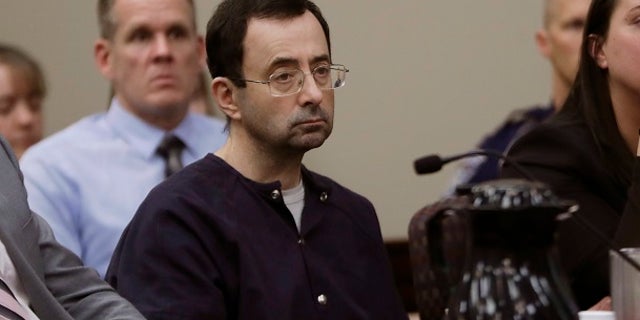 Nassar was in court awaiting his third and final sentencing for sexual assaults under the guise of medical treatment. The charges in this case focused on his work with Twistars, an elite Michigan gymnastics club headed by an Olympic coach.
Last week, the disgraced doctor was sentenced to 40 to 175 years in prison for sexually assaulting young female athletes. The former USA Gymnastics doctor and Michigan State University trainer pleaded guilty to the sexual assaults.
Nassar was expected to hear from more victims who said he molested them. The proceedings were expected to extend into next week. On Wednesday, Judge Janice Cunningham said a total of 265 victims came forward alleging Nassar abused them.
USA GYMNASTICS SAYS IT WILL COMPLY WITH OLYMPIC COMMITTEE'S DEMAND FOR FULL BOARD TO RESIGN
The scandal rocked the gymnastics world. Michigan Attorney General Bill Schuette announced Saturday an investigation has been launched into Michigan State University's handling of sexual abuse allegations against Nassar. Following the outcry over the school's handling of Nassar's sexual abuse allegations, MSU President Lou Anna K. Simon resigned and Mark Hollis, the school's athletic director, retired.
The entire USA Gymnastics board of directors resigned Wednesday amid the fallout. A report by The Wall Street Journal alleged the U.S. Olympic Committee "didn't intervene in USA Gymnastics' handling of sexual abuse allegations against Nassar" and found evidence of "possible criminal behavior" by the disgraced doctor.
The USOC declined to comment on the report.
The Associated Press contributed to this report.