Ohio, Indiana tornadoes leave at least 1 dead, several hurt amid destruction that looks 'like a war zone'
Hours after battening down amid the onslaught of a powerful and deadly storm system -- including at least one tornado considered "large and dangerous" -- Ohio residents were faced Tuesday morning with widespread damage and 70,000 power outages, affecting tens of thousands of people and crippling Dayton's ability to pump water.
Pictures posted to social media showed a massive funnel cloud near Trotwood, Ohio, eight miles northwest of Dayton. In its path, the twister left several apartment buildings damaged or destroyed.
Just before midnight, and less than 45 minutes after that tornado cut through, the National Weather Service warned another one was traversing the same path, churning up debris densely enough to be seen on radar.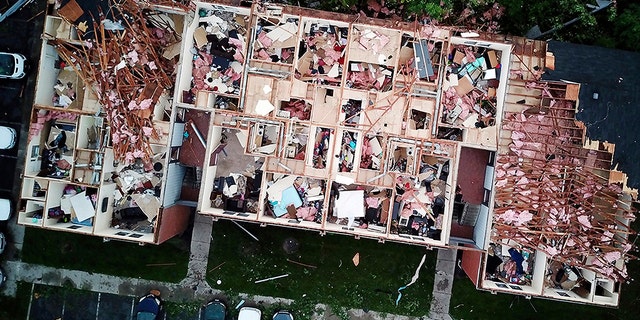 "Last night, Dayton was hit by a series of devastating tornadoes," Dayton Mayor Nan Whaley said at a news conference Tuesday morning. "We do not know the full extent of the damage. We do know the damage was significant."
10 DEADLIEST US TORNADOES ON RECORD
Dayton Fire Chief Jeffrey L. Payne said search and rescue teams continued their work in areas affected by the storms but, as of Tuesday morning, there were no fatalities in the city.
"I find that pretty miraculous," Payne told reporters.
The situation was more serious in Celina, located roughly 60 miles northwest of Dayton, where the NWS said a tornado with "at least" EF-3 intensity and winds between 135 and 165 mph struck.
Celina Mayor Jeffrey Hazel confirmed to Fox News that one person was killed and seven people were injured when a tornado struck the northwest side of town. Hazel said the one fatality was an 81-year-old man who was asleep in his bed when a vehicle was picked up in the storm and crashed into his bedroom. The man, who was a widower, was home alone at the time, according to Hazel.
Three of the seven reported injuries were considered to be serious.
"It looks in areas like a war zone. Some of the houses were completely moved off their foundations and gone," Hazel told WDTN.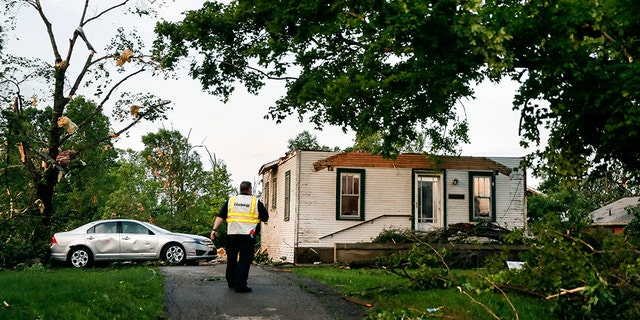 At least half a dozen communities ranging from eastern Indiana through central Ohio had suffered damage from the storm system, according to the NWS. A tally of storm reports posted online by NOAA's Storm Prediction Center in Norman, Oklahoma, show that 14 suspected tornadoes touched down in Indiana, 10 in Colorado and nine in Ohio.
The NWS said an EF-3 tornado with winds up to 140 mph was confirmed in Trotwood in Montgomery County, Ohio. Two additional tornadoes were confirmed in Pickaway County.
GRAPHIC LANGUAGE IN TWEET
The aftermath of the storm threw debris so thick that some lanes of Interstate 75 were blocked north of Dayton. Trucks with plows were deployed to clear tree branches and rubble in a bid to get the major north-south route reopened as crews worked in tough, dark conditions, according to Matt Bruning, a spokesman for the Ohio Department of Transportation.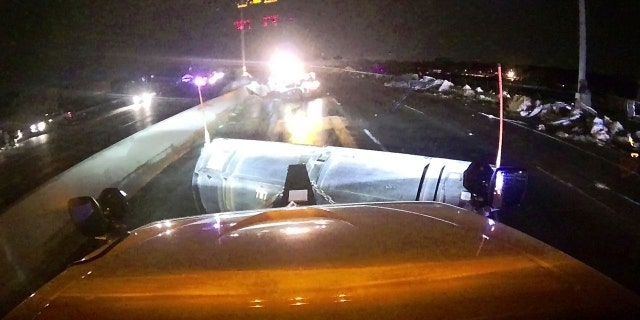 "We'll do a more thorough cleaning after we get lanes opened," he told The Associated Press by text early Tuesday, noting that tow trucks would have to haul off damaged vehicles along the roadway, too.
RED CROSS EMERGENCY SHELTERS OPEN FOR THOSE AFFECTED BY OHIO TORNADO
After storm damage and losing the power to pump water for residents in Dayton and surrounding cities drawing their supplies from Dayton, the city manager issued a system-wide boil advisory and implored those in affected areas to conserve water.
"Without the power to pump water, we will be destabilizing as a water system," Dayton City Manager Shelley Dickstein said Tuesday morning.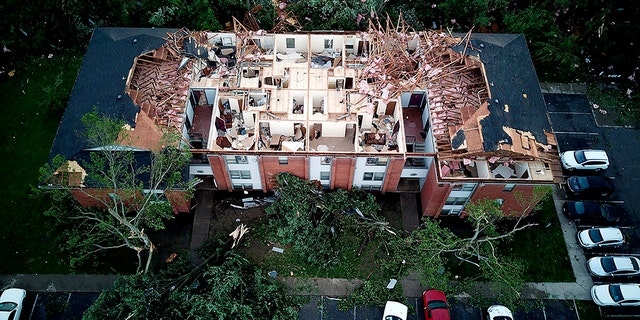 Dickstein said the boil advisory affects all city of Dayton and Montgomery County water customers. Locations that have their own water in Montgomery County such as Oakwood, Huber Heights, Vandalia, Englewood, Miamisburg, Union, and West Carrollton are not under the boil advisory, according to the city manager.
The city utility reported almost 60,000 customers were without power-- about 88 percent of the area.
"This issue with not having power to the water plants is a significant concern for us," Whaley told reporters.
Dickstein that that three 15,000 kW generators and between three and five additional 300 to 500 kW generators are coming into the city to try to get up and running at the water pump stations by midday on Tuesday. The city manager added that the entire water system needs to be repressurized before the boil advisory can be lifted.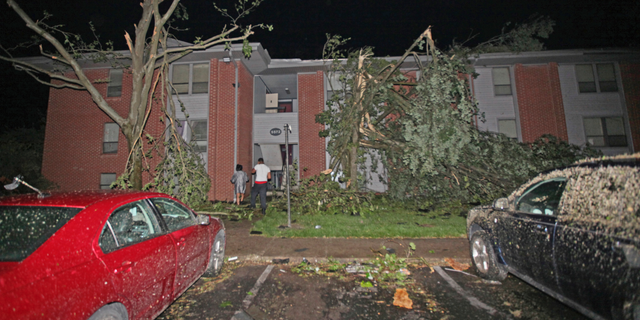 A spokesperson for Premier Health System told Fox News that Miami Valley Hospital in Dayton admitted eight patients with storm-related injuries. Two of those were in the intensive care unit, according to the spokesperson.
Towns just outside Dayton, Ohio, took some of the heaviest hits. In Brookville, located west of the city, the storm tore roofs off schools, destroyed a barn and heavily damaged houses.
Crews were also clearing debris in two other counties northwest of Dayton.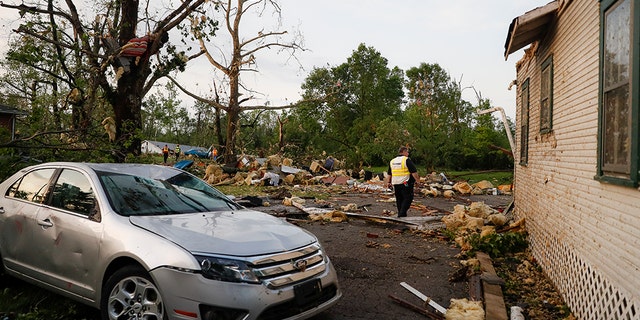 In Montgomery County, which includes Dayton, Sheriff Rob Streck said many roads were impassable. The Montgomery County sheriff's office initially said the Northridge High School gymnasium would serve as an emergency shelter in Dayton but later said it wasn't useable.
The NWS reported earlier more than 70,000 power outages across Ohio. The agency initially said 5 million people were affected by the outages, then revised their numbers downward.
CLICK HERE TO GET THE FOX NEWS APP
In Indiana, at least 75 homes were damaged in Pendleton and the nearby community of Huntsville, said Madison County Emergency Management spokesman Todd Harmeson. No serious injuries were reported in the area or other parts of the state.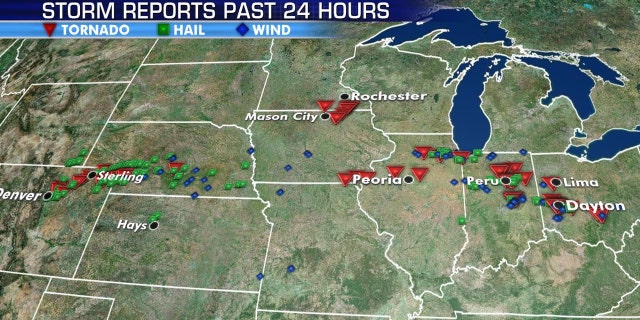 Madison County authorities said roads in Pendleton, about 35 miles northeast of Indianapolis, are blocked with trees, downed power lines, and utility poles. Pendleton High School is open as a shelter.
The NWS said a survey team will investigate damage in Madison County and possibly in Henry County. Another team may survey damage in Tippecanoe County.
Fox News' Kimberly Wagner and The Associated Press contributed to this report.