Landslide threat prompts Washington state hillside residents to evacuate
It's not often a massive, active landslide is able to be monitored and its movements tracked in real time. But thanks to a lack of trees and drone video that clearly showed the developing landslide, Rattlesnake Ridge, near Yakima, Wash. is currently the most closely watched active landslide in America.
A crack more than 30 feet wide and 250 feet deep is getting wider by 3 inches every day. Dozens of state and local agencies and their scientists began monitoring the ridge, fearing a repeat of the 2014 disaster in Oso, Wash., which killed 43 people, the deadliest landslide in U.S. history.
When the Rattlesnake Ridge slide was accelerating, 50 residents living below the slide in mobile homes were evacuated. The early prediction was for a catastrophic event during the current rainy season. But now, officials are less alarmed.
"The likelihood of the landslide actually impacting those people and the highway is very low likelihood," said Stephen Slaughter of the Washington State Department of Natural Resources. "But the consequences of them being impacted are quite high."
Using lasers, seismometers and GPS point sensors, experts have determined the slide is holding a steady pace. And it's not likely all 4 million cubic yards of soil will come down all at once. Five residents have returned home, including Alex Blanco, who is still uneasy.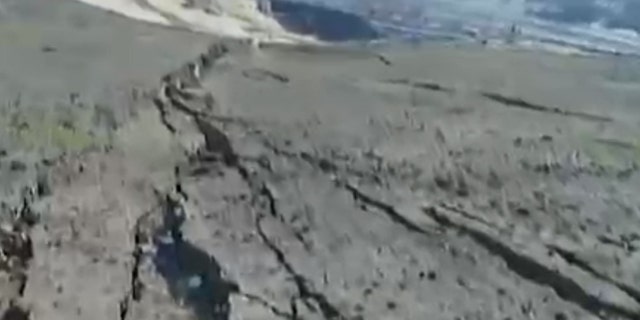 "What if it snows?" Blanco asks. "It could crack off, it's not as if they have it taken care of. It's up to Mother Nature."
Another concern is for the 24,000 motorists per day who pass through the slide zone on Interstate 82. A catastrophic slide would easily reach the highway, so the DOT filled 44 containers, each 20 feet long, with concrete jersey barriers to block any falling debris. But, based on the latest assessments, confidence is growing they won't be needed.
"It's not going to be a catastrophic, quick slide that's going to wipe out all the infrastructure," said Jeff Emmons who leads the Yakima Valley Office of Emergency Management. "It's going to be slow moving, and if it progresses that direction, we will see that coming."
Emmons says the working assumption now is that the slide will likely continue for months, if not years, with the bulk of the ridge settling into a now-abandoned gravel mine.
Rattlesnake Ridge is one of 58,000 active slides in Washington state, but by far the most closely watched.