LA police: Man took dismembered body in suitcase on train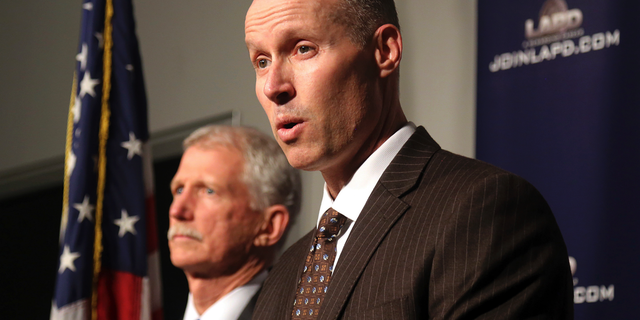 NEWYou can now listen to Fox News articles!
LOS ANGELES – A homeless man killed his wife in an abandoned California restaurant, dismembered her body and carried it aboard a light-rail train in a suitcase before burning her remains outside a home improvement store, Los Angeles police said Tuesday.
Investigators believe Valentino Gutierrez killed his wife last week in Pasadena, Deputy Chief Justin Eisenberg said.
He took the train a few stops then rode his bicycle — with the suitcase in tow — to the parking lot of a Home Depot in the Cypress Park neighborhood, where he set the suitcase ablaze, Eisenberg said.
The killing was a "particularly disturbing homicide because of its sheer brutality," he said.
Firefighters discovered the body parts after being called to the store around 1:30 a.m. Thursday, police said.
Coroner's officials have been unable to identify the remains or confirm whether the person was a man or woman. But police believe the victim is Gutierrez's 31-year-old wife, Tiana Alfred, said Capt. William Hays.
Detectives identified Gutierrez as a suspect after reviewing surveillance video that showed a man with a similar suitcase riding a light-rail train, which led them to Pasadena, Hays said.
Police bloodhounds were able to track Gutierrez's movements, and several homeless people in the area identified him, Hays said.
Investigators have not yet found a motive, the captain said. Gutierrez was arrested on Friday outside a homeless shelter where he has been staying.
The 56-year-old was charged with murder and arson and made an initial court appearance Tuesday but did not enter a plea, prosecutors said. The name of his defense attorney was not immediately known.
___
Follow Michael Balsamo on Twitter at http://www.twitter.com/MikeBalsamo1 .