LA construction crews aim for largest continuous concrete pour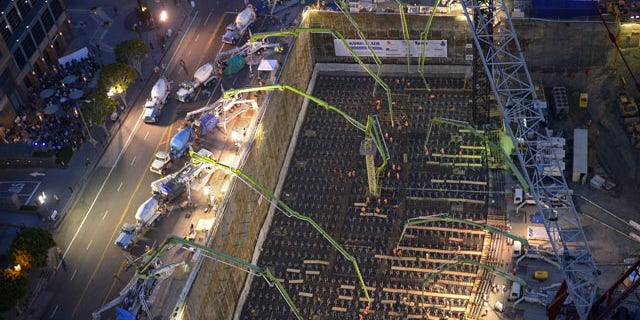 LOS ANGELES – Crews began pouring concrete Saturday to lay the foundation for the tallest building to be constructed west of the Mississippi -- and they're hoping it's one for the history books.
The marathon concrete pour was expected to last 20 hours without interruption. The attempt will be verified by an official from Guinness World Records.
About 2,000 truckloads of concrete will be driven throughout the weekend to the construction site in downtown LA where a skyscraper called the New Wilshire Grand will be built.
"In LA I think people are enthused about downtown, they're excited about this building. ... It means jobs, jobs, jobs," Mayor Eric Garcetti told KABC-TV at a festive ceremony featuring the University of Southern California marching band. He mused on Twitter whether the construction project should be dubbed "(hash)pourzilla" or "(hash)thegrandpour."
Once finished, the skyscraper will soar 1,100 feet, making it the tallest structure west of the Mississippi. It will boast a 900-room hotel, convention space and offices. There also will be an outdoor terrace and a swimming pool on the 73rd floor.
The project, estimated to cost more than $1 billion, has been a huge undertaking.
For the past several months, crews have prepared the site by digging an 18-foot-deep pit and lining it with 7 million pounds of reinforcing steel. They will then add 84 million pounds of concrete.
Because the concrete must be poured within 90 minutes of being mixed, trucks must arrive on time. In case of freeway jams, alternate routes have been mapped.
After the last truck leaves, it'll take about two weeks for the concrete to fully harden. Because concrete heats as it cures, crews will pump water to keep it cool. Backup equipment is on site in case anything fails.
Gerard Nieblas, president of Brandow and Johnston, the engineering firm that designed the building, said there are many variables at play.
"You try to minimize them as much as possible. We're lucky if we get 99 percent of them. But with the foundation, we want to hit 100 percent," Nieblas told the Los Angeles Times.