KKK fliers found in New York neighborhood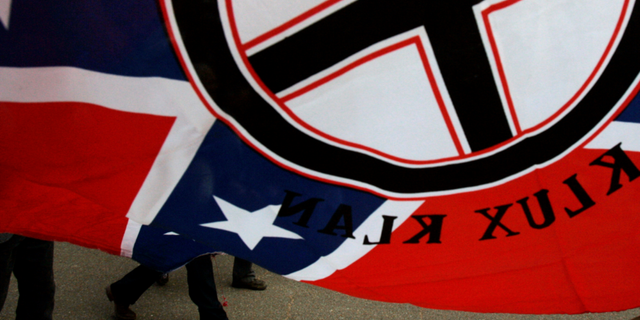 Fliers have been circulating around a community in upstate New York advertising a Ku Klux Klan rally under a seemingly new name.
The fliers, signed the "Kool Kids Klub" and packaged in small plastic bags with cat litter, were found on driveways in Northville and local police are asking for the public's help to determine where they came from.
STUDENT NEWSPAPER CONSIDERS NAME CHANGE AFTER KKK CONFUSION
The Fulton County Sheriff's Office posted an image of the bags on Facebook and asked if anyone has any information, to contact their office.
The informational pamphlets advertise a "Klan Rally" in Charlottesville, Va., in July. "Stop the cultural genocide of white people," the flier said. "The Kool Kids Klub wants you!"
The Loyal White Knights of the Ku Klux Klan in Virginia requested a permit to rally July 8 in protest of the City Council's decision to remove a statue of Confederate Gen. Robert E. Lee from a local park, according to The Daily Progress.
STUDENTS DISCIPLINED FOR WEARING KKK-LIKE GARB TO SCHOOL
The fliers were discovered in New York less than a month after KKK fliers were found in a Texas City neighborhood Memorial Day weekend. Those fliers, combined with pieces of candy, said "Join the best or die like the rest."