Kidnapping trial focuses on whether teenage girl chose to leave home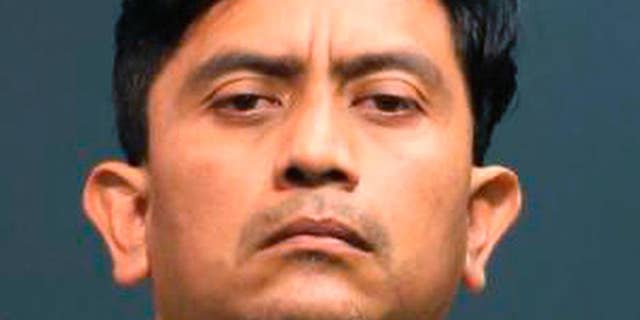 NEWYou can now listen to Fox News articles!
A prosecutor said on Thursday that a California man was eying his girlfriend's 15-year-old daughter before he helped bring the girl up from Mexico, raped her, abducted her from the family's home and forced her to live with him under a false name for a decade.
But a lawyer for now-42-year-old Isidro Garcia told jurors that his client was a hard-working janitor and machine operator who adored the girl he later made his wife and the mother of his child, and that she left her family's troubled Orange County home willingly with him as a teen.
Jurors heard two radically different accounts of the same sequence of events in opening statements of Garcia's trial on charges of rape, kidnapping and lewd acts on a child dating back to 2004. With the kidnapping charge carrying a potential life sentence, the lawyers focused largely on whether the girl was snatched or ran away with Garcia.
At times, Garcia, who listened to a Spanish translation of the statements via a headset, appeared to sob and shake his head.
The case drew widespread attention in 2014 after Garcia's wife went to authorities near their home in Bell Gardens, California, and said she was the subject of a missing persons report filed a decade earlier by her mother, soon after she had arrived in the country from Mexico.
After Garcia's arrest, neighbors said they were shocked because the couple seemed so happy raising their 3-year-old daughter and hosting parties at their home.
On Thursday, prosecutor Whitney Bokosky said Garcia began flirting with the girl soon after she arrived at her mother's apartment in an immigrant neighborhood in Santa Ana, California. He forced her to have sex with him and after an argument at the family's apartment, took her to live in a garage the next county over under a fake ID that made her appear older, she said.
Garcia told her she would be arrested and deported if she dared to leave and beat her when she tried, Bokosky said.
"She no longer gets to go back to school like a normal person, she no longer gets to go have friends," Bokosky told jurors, urging them to look beyond appearances in the case. "She is not allowed to be alone. He gets to continue to have sex with her and manipulate her."
The girl stayed with him out of fear until she reached out to her sister on Facebook in 2014 and mustered the courage to try to leave, Bokosky said.
In contrast, Garcia's lawyer, Seth Bank, showed photos of the smiling couple dressed in a white wedding gown and suit years later and celebrating their daughter's birthday.
Garcia, he said, was known for working hard to support his family and for adoring his wife, taking family trips to Las Vegas and Disneyland.
Garcia's wife had come into contact with police over the years and never said anything about her alleged kidnapping, Bank said. When she no longer needed Garcia to escape from her unhappy home, she fabricated the story of her abduction to reunite with her mother and sister, he said.
"She made the choice to engage in the relationship with him. She made the choice to leave," Bank said. "He accepted responsibility. He engaged in an inappropriate sexual relationship with this 15-year-old girl and he started a life with her (...) He never raped her and he never kidnapped her."
Testimony will begin on Tuesday. The woman and her relatives are expected to testify, along with neighbors who knew the couple over the years.
Bokosky has also asked to call as a witness Elizabeth Smart, who was held captive for nine months after she was kidnapped from her Utah home and now works to bring awareness to predatory crimes against children.
Bank said he did not know yet whether Garcia would take the stand.