Kentucky evacuees miss their dogs, clothes, beds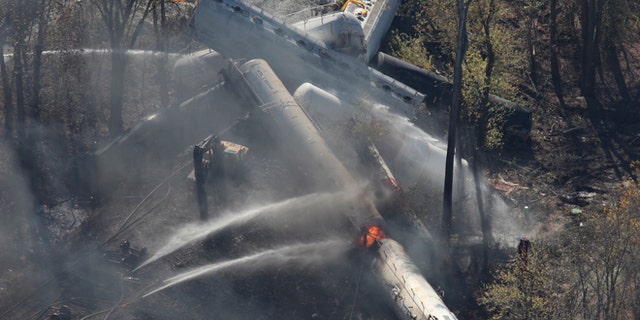 NEWYou can now listen to Fox News articles!
LOUISVILLE, Ky. – Roger Jacobs left behind a warm bed, clean clothes and his dog Zoey when a chemical fire from a derailed tanker car in Kentucky forced him from his apartment.
On Friday, the 50-year-old West Point man was still wearing the same clothes he left with three days ago. He wondered if Zoey, a Labrador-mix, had enough water, though his father has been able to make brief daily visits to check on her.
"It's just frustrating," said Jacobs, who joined dozens of others at an outreach center set up by the railroad to help reimburse evacuees for expenses. "I'm worried about my dog. You like sleeping in your own bed at night. I'm tired of sleeping on a couch."
Hundreds received little notice before they had to evacuate Wednesday, including the entire town of West Point, when a chemical fire broke out at the site of the derailment. On Friday, officials said the evacuation order will stay indefinitely as a massive effort continued to move derailed train cars filled with hazardous materials away from another car, from which the chemical butadiene continued to burn for a third day.
Doug Hamilton, executive director of the Louisville Metro Emergency Management Agency, said late Friday that officials may issue another shelter-in-place order for residents within a five-mile radius on Saturday afternoon as they seek to stabilize two rail cars sitting atop each other containing hydrogen fluoride.
"It is our intent, if we do not have any problems or adverse weather tonight, it is our intent to move and level those two cars," Hamilton told The Courier-Journal of Louisville. Crews would then begin removing the dangerous chemical.
Emergency shelters are open, but many are staying with family and friends or in motels. Paducah & Louisville Railway, which was operating the train, is offering evacuees reimbursement for lodging, food, lost wages and other expenses.
Another evacuee at the center Friday was West Point resident Cary Mangin, 50, a security guard who said he missed two days of work. He can't afford the gas to make the 150-mile round trip from his mother's house to his job because of roadblocks surrounding the derailment site.
Asked how he's spending his down time, he said, "If you ain't got money ... there's not a whole lot you can do. Sit and twiddle your thumbs."
Mike Smith and Dawn Murphy rushed from their West Point home with their two young children, taking just enough time to pack some clothes for the kids. The family is staying at a $68-a-night motel near Smith's job as a roofer.
While they are gone, Smith said, he worries "if there's any riff-raff taking what belongs to us" at their home.
West Point residents were allowed back for a brief time Thursday and Friday to tend to pets and grab clothes, medicine, toiletries and other necessities.
But emergency officials reiterated late Friday afternoon they aren't going to rescind the evacuation order until they have the most worrisome of the derailed cars removed -- two cars sitting atop each other containing hydrogen fluoride that are a mere 10 feet from the burning butadiene.
"We know that the residents are tired of the inconvenience," Hamilton said. "... As long as (hydrogen fluoride) is on the ground in an insecure container, you can expect that it will remain in place."
The derailment took place Monday but took a turn for the worse Wednesday when three workers using a blow torch ignited butadiene from one of the derailed cars. Two workers remain hospitalized, one in critical condition.
Officials said the butadiene fire was under control.
Butadiene, a chemical commonly found in rubber used to make tires, can damage the central nervous system and reproductive system. Hydrogen fluoride is a corrosive chemical that can cause severe respiratory damage.
The train derailed near Dixie Highway, a main corridor between Louisville and Fort Knox that has been partially closed since Monday.
Art Smith of the U.S. Environmental Protection Agency said Friday water and air samples continue to show there are no immediate concerns about contamination. The derailment site is near the confluence of the Salt and Ohio rivers.
Dog owner Jacobs said he thinks he'll be frazzled if the evacuation drags through the weekend as expected.
"It's surprising how much you miss your TV shows, you miss your regular routine," he said.
And as for Zoey?
"I'll make her spaghetti when I get home," he said.