Kate Steinle murder case explained, from Trump's comments to DOJ arrest warrant
Jose Ines Garcia Zarate, an illegal immigrant who was found not guilty of murder in November for the fatal shooting of Kate Steinle in 2015, pleaded not guilty on Feb. 13 to U.S. gun charges.
Federal prosecutors charged Garcia Zarate with two counts of illegal gun possession in the fall after jurors in California court found him not guilty of killing Steinle. The charges are similar to a conviction that the jury did return — being a felon in possession of a gun — leading to a three-year jail sentence.
Tony Serra and Maria Belyi, Garcia Zarate's attorneys, argue that the federal charges are politically motivated and are asking for the case to be thrown out. Short of dismissal, they say the two federal charges should be combined into one.
Garcia Zarate was sentenced to time served in January for being a felon in possession of a firearm -- the sole conviction resulting from his November trial. Garcia Zarate was acquitted of first- and second-degree murder and involuntary manslaughter. He was also acquitted of assault with a deadly weapon.
In March, Garcia Zarate's lawyers accused the federal government of "vindictive prosecution and collusion" against his client, according to a motion they reportedly filed in U.S. District Court in the Northern District of California.
The lawyers wrote that the new charges brought against Garcia Zarate by the federal government are in "violation of the Due Process Clause of the Fourteenth Amendment and violates Double Jeopardy clause of the Fifth Amendment because of ongoing collusion between the State of California and the federal government," according to the motion.
Steinle was shot by Garcia Zarate when she was walking with her father and a family friend on Pier 14 in San Francisco. The case sparked a national debate about illegal immigration and so-called "sanctuary cities."
Garcia Zarate's defense argued that the murder was an accident, explaining that the gun unexpectedly went off when he found it wrapped in a cloth underneath a bench.
Here's what you need to know about Steinle and the case.
Who was Kate Steinle?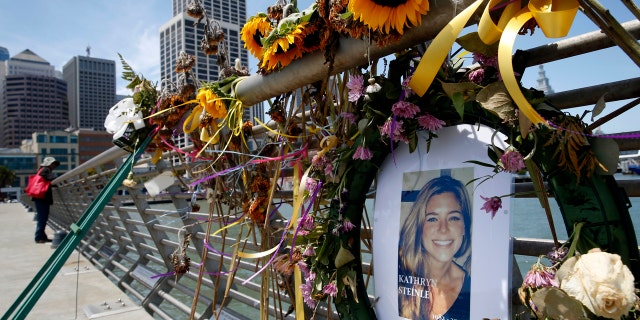 Steinle, 32, was from Pleasanton, Calif. After graduating from Amador Valley High School, she received a communications degree from California Polytechnic State University.
Known for her adventurous spirit, Steinle traveled the world after graduating college. Prior to her death, she was employed by the medical technology company Medtronic.
Her funeral was held at a winery in Pleasanton in July of 2015. Steinle is survived by her mother, Liz Sullivan, father, Jim Steinle, and brother, Brad Steinle.
Who is Jose Ines Garcia Zarate?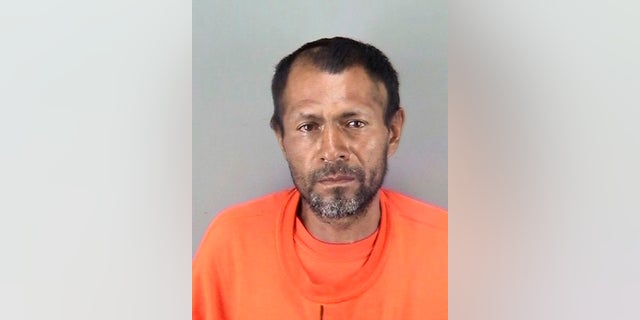 Garcia Zarate is an illegal immigrant from Mexico. He had been deported five times and was wanted for a sixth deportation when Steinle was fatally shot in the back while walking with her father on the pier.
Before the shooting, Garcia Zarate had completed a federal prison sentence for illegal re-entry into the United States and had been transferred to San Francisco's jail in March 2015 to face a 20-year-old charge for selling marijuana.
SANCTUARY CITIES: WHAT ARE THEY?
The sheriff's department released him a few days later after prosecutors dropped the marijuana charge, despite a request from federal immigration officials to detain him for deportation.
What are the details of the case?
In a jailhouse interview in 2015, Garcia Zarate claimed he found the gun that killed Steinle, which was later determined to be stolen from the SUV of a U.S. Bureau of Land Management ranger that was parked in San Francisco.
Garcia Zarate fired one shot from the gun, which hit Steinle in the back and pierced her aorta. She collapsed into her father's arms, who was with her and a family friend as they walked along the pier. Steinle died at a hospital shortly after she was shot.
Garcia Zarate was arrested about one hour after the shooting.
San Francisco Deputy District Attorney Diana Garcia said during the trial that she didn't know why Garcia Zarate fired the weapon, but that he created a risk of death by bringing the firearm to the pier and twirling around on a chair for at least 20 minutes before he fired.
"He did kill someone. He took the life of a young, vibrant, beautiful, cherished woman by the name of Kate Steinle," she said.
Defense attorney Matt Gonzalez said in his closing argument that he knew it was difficult to believe Garcia Zarate found an object that turned out to be a weapon, which fired when he picked it up.
But he told jurors that Garcia Zarate had no motivation to kill Steinle and that as awful as her death was, "nothing you do is going to fix that."
Ballistic experts testified that the bullet ricocheted about 15 feet from where Garcia Zarate was sitting and then traveled another 80 feet before striking Steinle in the back and piercing her heart.
His attorneys argued that even an expert marksman would have difficulty pulling off such a "skip shot."
Garcia Zarate was ultimately found not guilty and was acquitted of first-and second-degree murder and involuntary manslaughter. Following the verdict, U.S. immigration officials announced that he would be deported. But the Department of Justice later unsealed an arrest warrant for Garcia Zarate.
The arrest warrant was originally drafted in 2015 and later amended to include violations related to the charges of a felon in possession of a firearm, involuntary manslaughter and assault with a deadly weapon, all of which were filed after the defendant's initial arrest, according to the warrant.
As a result of Steinle's death, the House of Representatives passed new legislation called Kate's law in June of last year. The law increases penalties for deported aliens who are caught trying to return to the U.S.
What has President Trump said about the case?
Trump has been anything but silent on Steinle's case.
In November of last year, Trump tweeted that the verdict was "disgraceful."
A day later, he reiterated his campaign promise to build a wall along the U.S.-Mexico border.
In 2015, prior to Kate's law being passed by the U.S. House of Representatives, Trump tweeted that he supported the law. In another tweet, he criticized former President Barack Obama's reaction to the shooting.
During his speech at the Republican National Convention as the GOP presidential nominee, Trump mentioned Steinle in his speech.
"But where was the sanctuary for Kate Steinle? Where was sanctuary for the children of Mary Ann, Sabine and Jamiel Where was sanctuary for all the other- ah it's so sad to even be talking about it cause we can solve this problem so quickly," he said during the speech, referencing sanctuary cities.
"I don't pay too much attention to it, you know, they're going to say what they're going to say. I really have no say in what's going to be put out there," Brad Steinle said in response to Trump's comments, according to a 2016 interview with ABC 7.
What was the Steinle family's reaction to the verdict?
Jim Steinle told the San Francisco Chronicle the family was saddened and shocked by the verdict.
"There's no other way you can coin it. Justice was rendered, but it was not served," he said.
Fox News' Claudia Cowan and The Associated Press contributed to this report.